Premier League
Fantasy Football: Who's a midweek rotation risk?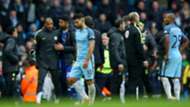 There have been a lot of people touting the double game week players but, as we've seen with Marcus Rashford and Alvaro Negredo, that doesn't always go well.
With so many matches on the horizon there's bound to be rotation, especially among some of the bigger clubs. Below are three star players who are rotation risks in the remaining week 34 fixtures.
Download Goal Fantasy Football on iOS or Android now and win great prizes every week!
Sergio Aguero (Forward, Manchester City, Price: 9.1, Ownership 43.12%)
He is certainly no stranger to injuries and seemed to pick up a knock in Sunday's FA Cup. At time of writing we do not know if Aguero will be fit or not but, with three matches in 7 days, it's likely that he will be given a rest regardless. Whoever starts up front for Manchester United will have a tough task ahead of them as Jose Mourinho's men have not allowed a shot on target in their past two matches.
Son Heung-Min (Midfielder, Tottenham, Price: 7.3, Ownership: 7.74%) 
The Korean is the most form player in the Goal game at the moment but that doesn't guarantee him playing time. Manager Mauricio Pochettino had to play him at left wing back just to get him on the pitch in the FA Cup semi-final, a mistake he will not likely make again. If Spurs play a 4-2-3-1 he would be played out left, but would likely be dropped in any other formation.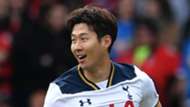 Olivier Giroud (Forward, Arsenal, Price: 7.9, Ownership: 2.93%)
The Arsenal attack has been much less successful since they started playing forwards ahead of Alexis. Considering that, his minutes in Sunday's match, and the coming North London Derby at the weekend make it quite possible that Giroud could miss the Leicester match midweek. He only has one goal in the last five matches so he shouldn't be a huge miss for your team.