Gaming
Fantasy Football: Messi and Ronaldo feature in Goal's Champions League Team of the Week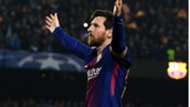 The latest round of Champions League matches went very well for the three remaining Spanish teams. Real Madrid largely coasted through the round of 16 but Sevilla and Barcelona both carried draws into the second leg and needed big performances from their star players - which they got and more. The leading scorers in Europe for the two latter sides (Lionel Messi, Wissam Ben Yedder) both had huge days scoring twice and propelling their teams into the quarter final stage. To see who else landed in our Goal Team of the Week, just keep scrolling!

GK: Iker Casillas - Porto - 1 Game, 5 Saves, 1 Clean Sheet = 9 Points
DF: Michael Lang - Basel - 1 Game, 1 Goal, 1 Goal Conceded = 8 Points
Things that people did not expect: Michael Lang to be the defender with the second-most Fantasy points after the round of 16. While Basel are now out of the competition, the Swiss defender had a fantastic campaign, notching three goals, an assist, and four clean sheets in his eight Champions League matches. He came at a value as well, costing less (6.0m) than everyone else in the top 10 is points at his position. Considering Basel are 16 points off first place in the Swiss League, which lost it's automatic qualifying spot, it's unlikely we'll see much of him next season. Fare thee well, Michael.
DF: Samuel Umtiti - Barcelona - 1 Game, 1 Clean Sheet = 7 Points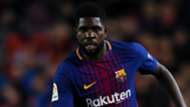 DF: Gerard Pique - Barcelona - 1 Game, 1 Clean Sheet = 7 Points
MF: Mohamed Elyounoussi - Basel - 1 Game, 1 Goal, 1 Assist = 11 Points
MF: Son Heung-Min - Tottenham - 1 Game, 1 Goal = 8 Points
The Korean only started five of Tottenham's Champions League matches, but managed to score in four of them. Fun fact: every goal Son scored in Europe this season was against a team wearing yellow (Borussia Dortmund twice, APOEL, and Juventus). The goal against Juve seemed as though it would put Tottenham through but fate was not on their side as the Italians stole the day.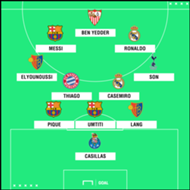 MF: Casemiro - Real Madrid - 1 Game, 1 Goal = 8 Points
MF: Thiago Alcantara - Bayern Munich - 1 Game, 1 Goal = 8 Points
FWD: Lionel Messi - Barcelona - 1 Game, 2 Goals, 1 Assist = 15 Points
After failing to score against Chelsea in his first eight matches, Messi scored three goals in the last two matches and pushed Barcelona past the English side 4-1 on aggregate. The Argentine playmaker has actually been somewhat of a disappointment in Fantasy this season, barely scraping the top 10 in the Goal game this season. Obviously he is capable of putting in performances like this any day and against any opponent but, considering his price tag, he may not be a must own depending on who the Spanish side draw for the quarter-finals.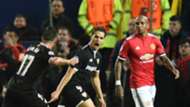 FWD: Wissam Ben Yedder - Sevilla - 1 Substitute Appearance - 2 Goals = 11 Points
FWD: Cristiano Ronaldo - Real Madrid - 1 Game, 1 Goal, 1 Assist = 10 Points
Ronaldo has been, without question, the best player in Champions League Fantasy this season. He has scored in every match he's played in to the tune of twelve total goals, and currently tops the heap in the Goal game with 22 more points than second-placed Roberto Firmino. Regardless of his next European opponent, Ronaldo is a must own.