eSports
EA and UEFA team up to launch eChampions League for FIFA 19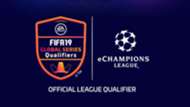 The biggest club competition in football will make its debut next year as EA Sports has revealed the eChampions League esports tournament for FIFA 19.
One of the biggest selling points of this year's FIFA was the inclusion of full UEFA licensing, bringing the Champions League to life on consoles.
The licensed trophy, graphics and most importantly, the iconic theme song, are all in the game.
And now EA has taken that partnership one step further with what appears to be the biggest tournament of the year ahead of the main event, the eWorld Cup.
Following in the footsteps of the ePremier League's inaugural season, FIFA players will also get to copy Journey star Alex Hunter by living their dream of competing in the European competition.
Surprisingly, the tournament will be exclusive to PlayStation 4 players only, similar to the recent Continental Cup in Paris.
Online qualifying will take place with global knockout tournaments between March 2-3 before the top 64 competitors go on to a live qualifying event at an unconfirmed location during April 26-27.
European Nights are coming to the #FIFA19 Global Series. https://t.co/H8ifZa6sD2 #FIFAeWorldCup pic.twitter.com/hhru8sZxIT

— EA SPORTS FIFA (@EASPORTSFIFA) November 9, 2018
From there, only eight players will make it to the main event which will take place in Madrid on May 31, a day before the Champions League final.
The tournament will be crucial to eWorld Cup qualification with 850 EA Sports FIFA 19 Global Series Points available to the winner.
The eChampions League champion will also receive a staggering $100,000 prize from the $280,000 prize pool.
To connect the esports tournament more with the Champions League, the final eight players will have to incorporate players who competed in this year's Champions League Group Stages into their squads - an interesting spin which means we will see a variety of teams with less Icons.
Speaking of the new tournament, EA SPORTS FIFA Competitive Gaming Commissioner, Brent Koning, said:
"Building an authentic UEFA Champions League competition was the next logical step in the continued EA SPORTS FIFA 19 Global Series expansion for both players and spectators.
"Our passionate competitors love the UEFA Champions League and the eChampions League creates a unique opportunity for the competitive FIFA superstars to represent their clubs in the pinnacle of club football."