Perak
Durakovic readies to battle emotions for Perak's cause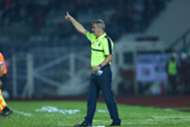 ---
  BY       OOI KIN FAI      Follow on Twitter
---
For the fans, it'll be Selangor versus Perak in the Super League. Just another matches in the league season. Some will be looking forward to it, some perhaps less so. For one person in particular, the match takes special significance and it's one that Mehmet Durakovic is eargerly anticipating.
Having spent seven years with the team back in the 90's and then for two years from 2014 to 2015, Mehmet was back in familiar colours. That during both periods, Durakovic managed to helped his team to Malaysia Cup triumphs is no mean feat.
On Saturday, it'll be something of a strange affair for Durakovic as he'll be on the opposite bench and while he is focusing his efforts into shaping his Perak team to get a positive result at Selayang Stadium, he knows that there's the human side of him that would eventually come out.
"At the moment, I'm not really feeling that much to be honest because I'm concentrating on my team. Tomorrow (Saturday), it will be different. When I see the colours there, it will be a bit emotional."
"I will always have something in my heart for Selangor but as a professional, you move on. Perak is my team now and my obligations is to them. I'll try to do my best," said Durakovic after Perak's training session on Friday evening.
There has been big changes in the proceeding two years since he was last with Selangor but there are still players there that Durakovic would have been familiar with. Rizal Fahmi, S. Veenod, Raimi Nor and Bunyamin Omar are just some of the players that have worked with Durakovic previously. The 51-year-old coach cited another individual on top of that list.
"Selangor has got a very good side, both experienced and young kids. There's still got most of the core players. Half of the squad is still there. P. Maniam is there and he knows me inside out. Good luck to them. They've been doing well and I'm very happy for them, as long as they don't win tomorrow [Saturday]," added Durakovic.
The Red Giants have stunned fans and pundits alike with their performances this season. The foundation to their success thus far has been the switch to a back three and it'll be something for Durakovic to think about considering the paucity of games, if any, against such formations. The Australian is keeping his cards close to his chest but is definitely aware of what Maniam has been doing.
"We will just see the games I have of Selangor. We will see how Maniam has been using his players. Every coach has got his own tactics but we'll try to do our best against that team. It's not going to be easy. They've got some good results at home," explained Durakovic.
Durakovic took over from Karl-Heinz Weigang and has only been in the job for a short period. A decent result against Felda United was followed by a shock 2-4 home loss to Kelantan and Durakovic put it down to the opponents who wanted it more on the day.
"I can tell you honestly. This is my 7th day with Perak. There's are no favourites in Malaysian football. Yes, maybe on form and on paper. If you don't concentrate and focus for 90 minutes, anybody can beat anybody on their day. Whether you play Kelantan, Penang or JDT [Johor Darul Ta'zim] - anybody is beatable. It's who turns up on the day. Who is mentally stronger and tougher will win the game," said Durakovic.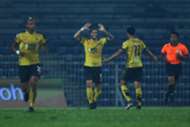 More is expected of Mirchev and co by Durakovic.   Credit: Vincent Phoon/CSN
Pointing to the shoddy defending that his team put up in the last game, Durakovic pinpointed the suicidal defending that his team displayed against Kelantan as something that his team will have to improve against Selangor. Despite scoring two goals, Durakovic was also particularly pleased with the profligacy shown up front.
"To be honest, you've got to stop making mistakes. If you don't make mistakes, you've got a good chance of winning the game. If you've got good chances and you don't put it away, you'll then get punished. That's what happened to us. First half we could've been up 3 or 4 nil but it wasn't the case, we missed all the chances. Everyone wanted to go score and we left ourselves exposed to counter attacks. We have to be smarter, technically aware and we have to keep position," explained Durakovic.
Rome wasn't built in a day and the same goes for Durakovic at Perak. There will be a bedding in period necessary but for the fans, it'll hopefully be a short one rather than a long one. Durakovic though, is vehemently positive that it'll eventually fall into place. 
"I'm getting to know the players. Honestly, I've only known a few players from Selangor. In one week, we had three games and it's not been easy. But we will get there, I'm trying to know my players and they are trying to know my style," said Durakovic.
There will be smiles and handshakes before and after the match but for 90 odd minutes on Saturday night at Selayang Stadium, Mehmet Durakovic intends to be a professional, even if that means being an enemy of Selangor.