Manchester City
De Bruyne on the road to Premier League greatness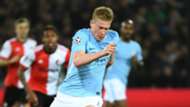 There was a sense last season that Kevin De Bruyne was struggling with Pep Guardiola's demands. The Belgium international had been earmarked as somebody who could spearhead the new-look Manchester City, but from the mid-point of the season he looked laboured, perhaps weighed down by his new, more industrious role in the Blues' engine room.
De Bruyne 8/5 to score v Watford
He was still putting up the numbers - compared to his debut season at the Etihad, he doubled his Premier League assists and scored one fewer league goal, thanks largely to an unfortunate knack for hitting the woodwork - but it still seemed to many onlookers that Guardiola was not getting the best out of him.
The former Barcelona playmaker decided to convert a thrilling playmaker into a box-to-box midfielder, somebody who would get involved in almost every aspect of City's game, to the benefit of the collective but to the detriment of the Belgian's own freedom on the pitch.
But few behind the scenes at the City Football Academy were worried. While fans and pundits (this one included) concerned themselves with this new-look De Bruyne and whether he was suited to his deeper-lying role, the message from the training ground was that he completely grasped everything, both in theory and in practice.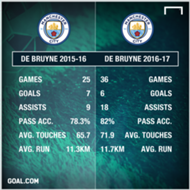 Though Guardiola and his coaching staff also noticed a slight dip while he adjusted to his new orders, particularly the amount of running he was asked to do, they were convinced he was the perfect player to carry out their positional play ideals.
Like David Silva, they saw somebody who had tactical intelligence and the requisite technical ability to execute the moves asked of him, though unlike the Spaniard, he would be able to complement that by covering a huge amount of ground - he posted an average distance of 11.66km per game last season, up from 11.28km in 2015-16.
The two of them were also combining in a way which provided a new spin on Guardiola's positional play. The City boss always expected the two of them to control the tempo of City's play, but what he did not envisage was that they would be able to carry the team forward quite so quickly. 
Something which most impressed the Catalan and his team last season was that unless teams put 10 men behind the ball, De Bruyne and Silva would waste little time with horizontal passes and would instead drive forward the entire team with direct runs or passes.
If it could be difficult to spot during the 2016-17 campaign, as the two got used to their new demands and City struggled in the crucial spring months, it has been obvious so far this term.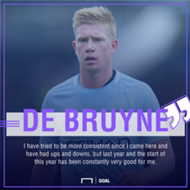 One of the best and most striking examples is probably City's first goal of the season, when De Bruyne won the ball in the Brighton half immediately charged towards goal. Though it looked like he may have delayed his pass to Silva on first viewing, he found his team-mate in space on the edge of the opposition area. From there, the Spaniard played the perfect first-time pass to Sergio Aguero, who had what seemed like an age to weigh up and execute his finish.
Silva himself opened up the Bournemouth defence with a pinpoint pass a fortnight later, while last weekend De Bruyne registered his first assist of the season with a beautiful defence splitting through-ball against Liverpool. Against Feyenoord on Wednesday, Silva won the corner which led to the first goal by bursting forward himself, De Bruyne-esque. 
The examples are racking up just five games into the season and, after the game in Rotterdam, Guardiola was effusive in his praise for the Belgian: "Kevin is one of the best players I've ever seen in my life.
"He can make absolutely everything. Everything. He's a top, top quality player. We are so proud and so happy he's with us."
De Bruyne took over the captaincy from the substituted Silva on Wednesday, another sign that his efforts are being fully recognised.
Or at least an attempt to ensure he keeps those levels up, as De Bruyne himself suspects: "I think in one way it is maybe a way to keep me under pressure to try to play at a level that I'm trying to keep but it gives me good pleasure the way we are playing as a team and it makes me better also."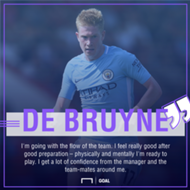 De Bruyne and City did indeed both offer glimpses of what they are capable of last season, but it seems as if everything is beginning to come together now.
City have not looked as slick when they have come up against massed defences this season, but both De Bruyne and Silva have demonstrated enough times already that they can carve open even the most defensive opposition if given the merest whiff of space in midfield.
Over the coming months and years, De Bruyne could even do one thing Silva has never managed to do; win widespread recognition as one of the Premier League's greatest ever.
If De Bruyne is not the best midfielder in England already, he is well on the way. With a season of adaptation behind him, he seems better equipped than ever to dominate Premier League midfields.
Whereas Silva is adored by City fans and a crucial member of Spain's most successful teams, he does not always get the recognition he deserves.
De Bruyne, with a more physical and hard-working approach that is likelier to win him friends in British football, could eventually end up mentioned in the same breath as Roy Keane, Patrick Vieira, Steven Gerrard and Frank Lampard, the mainstays in any 'all-time Premier League XI' debate.
For that to happen, City will have to become the dominant European force Guardiola wants them to be. As long as De Bruyne is at the heart of the team, though, they have every chance of doing just that.