Transfers
Chivas confirm Pizarro sold to Monterrey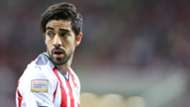 Rodolfo Pizarro is headed to Monterrey, Chivas sporting director Francisco Gabriel de Anda announced Sunday.
The 24-year-old Chivas winger is one of Liga MX's best attackers and now heads north to join Rayados, who also have added Mexico national team winger/defender Jesus Gallardo and goalkeeper Marcelo Barovero this offseason. Pizarro was said to be deciding between an offer from a European team and one from Monterrey and will stay in Mexico.
"The sale of Pizarro to Monterrey has been made official," De Anda said. "As we'd talked about [before], the possibility existed. The offer from Europe was very far off. Monterrey already spoke with Pizarro and the player accepted the conditions."
Despite winning the CONCACAF Champions League title last month, Chivas enters the summer in a crisis period after missing the playoffs in both the previous two league tournaments. Manager Matias Almeyda is all but gone as his lawyers negotiate his exit from his contract and the club is lacking financial resources.
Da Anda, however, claimed Sunday that Almeyda was still with the club and had not stopped being the manager, contrary to media reports and seemingly in contrast with what Almeyda himself has said and posted on social media.
The club, which only signs Mexican players, has been in contact with a number of potential reinforcements not only for Pizarro but also for center back Oswaldo Alanis, who signed with Getafe. De Anda said he had made inquires about Tigres defender Jorge Torres Nilo, Cruz Azul defender Jesus Maduena, Cruz Azul midfielder Rafa Baca, Monterrey midfielder Jonathan Gonzalez, Tigres winger Jesus Aquino Santos Laguna center back Nestor Araujo and Gallardo, who signed with Pumas.
Almeyda has gone public with frustrations about the lack of replacements the club has signed since he won the league-cup double in the 2017 Clausura.
Mario de Luna, a former Chivas defender who has been with Necaxa the past several years, will return to the club but is unlikely to be able to serve as a direct replacement for Alanis or to inspire Almeyda to stay on board.