Transfers
Chelsea could lose Aina as Torino consider €8m permanent deal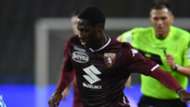 Torino are weighing up using the €8 million (£7m/$9m) option to sign Ola Aina permanently after being impressed with the Chelsea loanee's displays since his arrival in Italy in the summer.
The 22-year-old has spoken about his long-term desire to return to the Premier League  but  Goal  understands he is open to remaining in Serie A, where he has found top-flight game time under Torino coach Walter Mazzarri.
The London-born Nigeria international has played 11 times and scored once since completing his move to Turin off the back of renewing his Chelsea contract until 2021 over the summer .
Aina's progress in Italy is being monitored by Chelsea's loan coach Eddie Newton, but the Blues could be set to lose their homegrown player, who has been with the club for 11 years. 
He is one of 40 Chelsea players out on loan and, having spent last season on loan at Hull City, and Aina spoke to Goal last month about his development.
"It is a step up. Playing top-flight football offers me different challenges," Aina, who has made six appearances for Chelsea, said. "It has helped me to become a better player and my development, just all the things that I have learned abroad in Italy, I am bringing what I have learned here into the national side and I hope it will pay off in the long run.
"The players are really established and experienced so it was good to come up against that calibre of footballer. It will just make me better. I am working on the tactical side, positioning, staying concentrated and just being able to affect the game higher up the pitch as well.
"I have played both left and right whenever I am called upon. I don't think it is a problem and I enjoy it as well. Chelsea agreed it would be good for my development to focus on the tactical side.
"I have just been talking to Chelsea, I knew they would keep tabs on me. I know they are watching and paying attention to me. I think that it could be my final loan move.
"It is my aim for my career to play in the Premier League, I don't know when but I think this is a step that's going to help me to get there. Hopefully it helps."