Premier League
Chelsea proved they can win without Diego Costa, says Courtois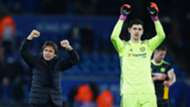 Thibaut Courtois was impressed with how Chelsea handled the absence of Diego Costa as they claimed three more points away to Leicester City to add to their Premier League title challenge. 
Costa was ruled out of his side's 3-0 win with a back injury - but Goal understands that the 28-year-old had a falling out with manager Antonio Conte over contract negotiations - after the Blues striker was offered a £30 million-per-year deal from a Chinese football club. 
Veron returns to football at 41
Courtois didn't go into his team-mate's contract situation but he admitted that he was impressed with Eden Hazard, Willian and Pedro who performed well in the forward line as Costa remained in London. 
"Yes of course. We have the quality to replace Diego. He is important for us, but if he is not there for one game, we know that we can handle it," Courtois said at the King Power Stadium. 
"There is obviously a different way of playing because against Huth and Morgan there is no point in giving long balls to Eden, Willian and Pedro. But I think we did well and the early goal helped us to control the game and early moments.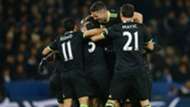 "Him [Alonso] and Victor had a lot of time in the box at the second post. It is good that they feel the moment to go and score goals. It is very good for us."
Courtois was forced into a few saves throughout the game, but it was an impressive display by Chelsea who didn't give a lot away against the Premier League champions on Saturday evening. 
The former Atletico Madrid goalkeeper went on to say that he thinks that his side are handling the pressure of the title race as they move seven points clear and that he thinks his rivals were hoping that they'd drop points against Leicester. 
"Just to see that we won 3-0, it shows that we don't stop and the loss didn't effect us," He added. "Everybody hoped we'd drop points, so that was very good. The most important thing is we go to Anfield with the biggest gap possible.
"Today was a game that, if I was sitting at home [like our rivals], I'd be thinking they're playing Leicester away and could drop points. For us to win here was a big boost and now we want to do the same against Hull so we have the gap at Anfield and there everything can happen.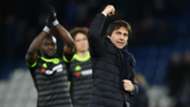 "Hopefully we can win another 13 times in a row, but we will see. We have to go game by game and that's best for us. Obviously if you're at the top, you have the pressure of wanting to keep that gap. Thankfully for us we are there, we are seven point clear.
"The pressure is more on the other teams than us, but obviously we have to keep winning our games. Obviously we are in a good moment, things are going well. Last year we were having a rough time and it was harder to get things in our favour. So we will try to keep the momentum and just win our games."