WTF
Joey Barton to appear in Morrissey music video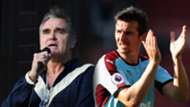 Joey Barton may be serving a lengthy ban from football for betting on matches, but that doesn't mean he's shying from the spotlight.
The former Manchester City, Newcastle and Rangers midfielder — who was released by Burnley in May — has revealed he will be appearing in Morrissey's new music video.
He took to Instagram with the news, posting a picture of himself with the former Smiths frontman.
A post shared by Joey Barton (@joey7bartonofficial) on Sep 25, 2017 at 11:59am PDT
The post came shortly after the 35-year-old had broken the news to talkSPORT , saying he had been asked to appear in Morrissey's latest video.
Barton is suspended until June after being accused of placing 1,260 bets on football from 2006 to 2016.