MLS
Atlanta and New York set for historic MLS playoff showdown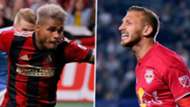 The MLS Cup final is two weeks away, but Atlanta United's Eastern Conference finals clash with the New York Red Bulls feels every bit like the league's championship showdown.
With apologies to Sporting Kansas City's Western Conference finals clash with the Portland Timbers, which should be a tightly contested affair, the Red Bulls and Atlanta have been the best teams in MLS for much of the 2018 season and enter their series having put together two of the best seasons in league history.
The series is considered a toss-up, even though the Red Bulls have never lost to Atlanta and set a new MLS record for points in a season, beating out the Five Stripes for the Supporters' Shield. Atlanta's high-flying attack and entertaining style make them a popular pick for those who fall in love with watching them at their best, but the Red Bulls are the clear favorites because of their ability to neutralize Atlanta like nobody else in MLS has been able to.
Don't expect the Red Bulls to enter the series overconfident, even after going 3-0-1 against Atlanta United over the past two years.
"Each of those games could have went the other way," Red Bulls coach Chris Armas said of his team's two wins against Atlanta in 2018. "As much as we had a grip on game two, Aaron Long makes a recovery run when Almiron gets through and Luis makes a big save. In the first game it's back and forth. But in each game we were aggressive and we played our way, which is what we want to take from it going into these next games.
"We're wise enough to not get ahead of ourselves, understanding how dangerous and explosive Atlanta is, how good they are at home. We'll have our hands full, but we'll have to reset for sure."
The Red Bulls' league-best defense is well-equipped to deal with Atlanta's biggest attacking threats. Tim Parker and Aaron Long have helped keep Josef Martinez quiet while also helping Tyler Adams and Sean Davis keep Miguel Almiron relatively in check. Kemar Lawrence was the league's best left back this season and matches up well with right-sided Atlanta threats Julian Gressel and Hector Villalba.
Those defensive standouts make things tough, but so does the Red Bulls' high-pressing system, which works even when the team is missing key players, like it did when the Red Bulls beat Atlanta in September without Adams and Bradley Wright-Phillips.
"Fundamentally what they do is compete with a lot of intensity for 90 minutes. I think that's the key characteristic of [the Red Bulls]," Atlanta United coach Tata Martino said. "They're a very direct team. Every time they have a chance to attack directly, they don't waste time, in two passes they're looking to be in the attacking third and they attack with a lot of players. I think those are their best qualities."
Martino can take heart in the knowledge that his squad has the weapons to find the first-leg goal that could swing the pressure onto the Red Bulls. That's a fact the Red Bulls are fully aware of.
"We'll have to be at our best," Armas said. "We'll need a number of good performances and not let it slip at all against them because they're just dangerous."
Here is a closer look at both of the conference finals series that are set to kick off on Sunday. 
---
New York Red Bulls vs Atlanta United
---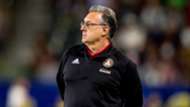 SCHEDULE : At Mercedes-Benz Stadium, Sunday, 5 p.m. ET; At Red Bull Arena, Thursday, 7:30 p.m..
SEASON SERIES :  Red Bulls won at Mercedes-Benz Stadium, 3-1, on May 20; Red Bulls won, 2-0, at Red Bull Arena on Sept. 30.
OUTLOOK : The key to the series will be Almiron and whether he can break through the Red Bulls stingy defense. The Red Bulls have done an excellent job of limiting service to Martinez over the past two years, but Almiron is the type of player who can single-handedly break down any defense if he is given any space.
New York will turn to Adams and Davis to try and contain Almiron, with Davis likely to have the direct assignment much as he did against Federico Higuain in the Red Bulls' series clinching second leg against the Columbus Crew in the last round. Adams is a threat getting forward and can catch Atlanta on occasions when the Five Stripes might be overexposed the counter, but at some point you have to think Armas will call on Adams to lock down Almiron, perhaps in the second leg.
Atlanta United deployed a 3-5-2 in its series win against New York City FC and also used the same system in its home match against the Red Bulls in May. The Red Bulls wound up winning that match, but Atlanta United created more chances only to be denied by a strong effort from backup Red Bulls goalkeeper Ryan Meara.
Going with the 3-5-2 again in order to match up numbers in the midfield with the Red Bulls' 4-5-1 is a good bet, at least in the first leg. If Atlanta goes that route, Martino will need Darlington Nagbe to be healthy and productive in the attack. He was largely invisible against the Red Bulls when the teams met in September and is now working to recover from a mild hamstring injury.
The Red Bulls will look to get Wright-Phillips going. The team's goalscoring leader has gone four straight matches without a goal, which is a drought by his lofty standards. He was suspended for the last meeting between these teams, but drew a penalty and scored a pair of second-half goals in the 3-1 win in May.
If Atlanta United pays too much attention to Wright-Phillips and tries to neutralize him the way Columbus did, then the Red Bulls will need Kaku to step up with a standout performance. He had a relatively quiet showing against Atlanta in September, but he has stepped up his play in recent weeks and could punish Atlanta if he's given room to operate.
---
---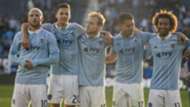 SCHEDULE : At Providence Park, Sunday, 7:30 p.m. ET; At Children's Mercy Park, Thursday, 9:30 p.m.
SEASON SERIES : The Timbers and Sporting KC tied, 0-0, at Providence Park on June 9; Sporting KC beat the Timbers, 3-0, at Children's Mercy Park on Aug. 18.
OUTLOOK : The Timbers have knocked off two higher seeds to get to this point, but now they're facing a Sporting KC side that rolled into the postseason with confidence and good form, particularly in attack. Sporting KC's defense is its usual solid self, but right now Peter Vermes' side is scoring goals regularly, which gives the West's top seed a clear edge against a Timbers side with a vulnerable defense.
Vermes has done an excellent job of choosing the right attacking combinations from his plethora of options and having those choices produce. After riding the effective target striker work of Khiry Shelton, he turned to Diego Rubio against Real Salt Lake and Rubio responded with goals in both legs of the RSL series. Now Rubio and Daniel Salloi head into the Timbers series in good form as they prepare to face a Portland defense that will surrender its share of chances.
Where Sporting KC can really take control of the series is in its ability to contain the Timbers tandem of Diego Valeri and Sebastian Blanco. Valeri was kept quiet in both matches against Sporting KC this season, which is a big reason why the Timbers failed to score a goal in either match. Blanco wasn't very effective in either match, coming off the bench in Portland's 3-0 loss in August.
Jeremy Ebobisse could wind up playing a key role in the series if he is able to give the Timbers a target at striker capable of holding up the ball and giving Valeri and Blanco someone to run off of and combine with. Giovanni Savarese could choose to partner Valeri with Lucas Melano at forward, like we saw in the second leg against Seattle, but Ebobisse's work up top could be pivotal against Sporting KC.