Primera División
Asensio: Nadal told Real Madrid not to let me escape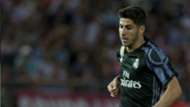 Marco Asensio has confirmed that tennis star Rafael Nadal convinced Florentino Perez to sign him from Mallorca.
'Barca offered Vinicius Junior more money than Madrid'
The Spain international joined the Spanish giants in 2014 after rising through Mallorca's youth system and shining in the Segunda Division with the first-team.
After loan spells at his former side and Espanyol, Asensio has been heavily involved for Zinedine Zidane's side, featuring in 37 games in each of the last two seasons.
Last month, famous Madrid supporter Nadal revealed that he told president Perez that he should sign Asensio after seeing him as a youngster at Mallorca, a claim the player has backed up.
"That anecdote is true. Rafa Nadal called Florentino and told him that they could not let me escape," he told AS.
"In the winter, my agent called me to say Real Madrid were interested. Then Florentino called before a game to tell me I was going to be a Real Madrid player.
"Everything happened in one day: we traveled to Madrid, signed the contract, visited the Bernabeu and we returned to Mallorca to finish the season. It was all fast and intense, but the satisfaction was huge."
The Madrid chief had already been told a long time before then that Asensio had a future at the club, having been told by the 21-year-old's mother.
Ronaldo cozies up to Georgina Rodriguez
"One day we went on a trip with the family and we were taking a walk in the port and there was Florentino Perez's boat. My mother recognised him and called him over to take a picture of us and told him that I was going to be Real Madrid player. One of life's coincidences, but it has been so and he also remembers that anecdote so beautifully."
Expectation has always been high around him, given he is named after one icon, while he is delighted to be playing for another at the Santiago Bernabeu.
"My parents told me that the name of their first child was chosen by my father and the second by my mother. She is Dutch and named me after Marco van Basten.
"Zinedine Zidane was my idol as a kid, I had a poster of him in the room. Now he is my coach and we are proud of that."