Real Madrid
A better goal-to-shot and assist ratio: Are these the stats that prove Bale is better than Ronaldo?
---

ANALYSIS
---
Just over a month ago they won the Champions League together. But on Wednesday, Cristiano Ronaldo and Gareth Bale go head to head on the football field for a place in the final of Euro 2016 as Portugal take on Wales in Lyon. So which Galactico is the better player?
Bale replaced Ronaldo as the world's most expensive footballer when he moved from Tottenham to Santiago Bernabeu for €100 million in the summer of 2013 and alongside the Portuguese, the two have won the Champions League twice in three seasons for the Spanish side.
Much is made of their relationship off the pitch and although they have both maintained that they get on fine, Bale was asked again by the media on Monday and surprised some by revealing that the pair have not been in touch by text message ahead of their quarter-final clash.
At Euro 2016, it is the Welshman who has had the edge with some superior performances to his club colleague, but ahead of their mouthwatering match on Wednesday, Goal takes a look at the stats from over the past season with club and country to see which of the two has been better...
---
GOALS
---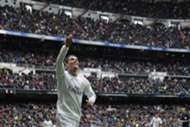 Hardly any players outscore Ronaldo (last season, only Barcelona's Luis Suarez netted more) and Bale is behind his Real Madrid team-mate in terms of goals. In 2015-16, the Portuguese hit 51 for the Spanish side (35 in La Liga, 16 in the Champions League), while the Welshman struck 19 (all in the Primera Division).
However, Ronaldo shot 227 times at goal in his 36 Liga games, while Bale made only 81 attempts. The Welshman's conversion rate of 23.5% is therefore much better than Cristiano's 15.4%. In the Champions League, however, the Portuguese hit 16 from 95 shots (at 16.8%), while Gareth did not net at all from his 30 attempts - although he did force the own goal from Fernando against Manchester City which saw Madrid make the final.
In the Euro 2016 qualifiers, Bale struck seven from 10 games and 52 shots (at a conversion rate of 13.5%). For his part, Ronaldo converted five from his six matches and 27 attempts (an 18.5 % success ratio). And at Euro 2016 where both have played five games (and the Portuguese two periods of extra time as well), the Welshman has three goals from 21 shots (18.5% success) to Cristiano's two from 36 tries (just 5.6%).
Overall, Ronaldo remains the greater goalscorer, but Bale missed large chunks of last season through injury and his shots-per-goal ratio in all competitions for club and country is slightly superior (15.76% to 15.06%). In addition, eight of Cristiano's goals in that period came from the penalty spot. None of Bale's did.
---
ASSISTS
---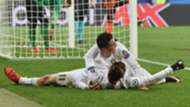 In terms of assists, Ronaldo has one so far at Euro 2016, having created eight chances overall. Bale, by comparison, is yet to provide a goal in this tournament but has created four chances. In the qualifiers, meanwhile, Cristiano created 15 chances in his six games (with no assist) and his Real Madrid team-mate claimed two assists in his 10 matches from 14 chances created.
At Real, the Portuguese racked up 11 assists from his 36 games in La Liga (with 51 chances created overall), while Bale managed 10 assists in his 23 games (from 50 chances created). And in the Champions League, Ronaldo assisted four goals (and created 23 chances) in his 12 games, while his club colleague claimed two assists and created 21 chances in his eight appearances.
In total, Ronaldo is ahead with 16 assists to Bale's 14 in all competitions over the past year with club and country. Statistically, however, the Welshman sets up a goal far more often than his Madrid team-mate (having played 3,722 minutes compared to Cristiano's 5,342).
That means the Portuguese has had an assist once every 333 minutes this past year; the Welshman provides one every 265 minutes.
---
PASSING
---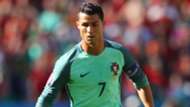 For Real Madrid, the pair's passing stats are very similar. In La Liga, Ronaldo's passing accuracy last season was 79.4% compared to Bale's 79.9%; in the Champions League, Cristiano's passing accuracy was 83.5%, while his team-mate achieved 84%.
Interestingly, however, there is more of a discrepancy at international level. During Euro 2016 and the qualifiers, respectively, Ronaldo's passing accuracy stands at 86.6% and 79.6%, compared to Bale's 69.3% and 74.2%.
And perhaps the logical explanation for that is, as the main man and the playmaker for Wales, Bale is forced to create more of the moves and to try more difficult passes in order to open up games than at Real Madrid, where he has a number of quality team-mates around him to do that, while Ronaldo relies more on the service of others in his role primarily as a penalty-box player these days.
In total, Cristiano's passing accuracy stands at 80.87% across all four competitions for club and country; Bale's is at 78.07%.
---
DRIBBLING
---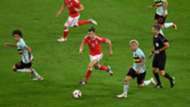 Ronaldo definitely doesn't dribble as much as he used to and that is evident in the stats from Euro 2016, in which he has attempted nine dribbles and completed just two.
By comparison, Bale has attempted 34 dribbles and completed 20 in fewer minutes for Wales. And it's a similar story in the qualifiers, where Cristiano completed eight (of 12 attempted - a good rate of success) while his club colleague completed 45 (of 85 attempted).
In La Liga, the Portuguese attempted 110 dribbles in his 36 matches, completing 51, while the Welshman attempted 89 in his 23 appearances and completed 43 of those. And in the Champions League, Ronaldo tried 30 (and completed nine) in his 12 matches, while Bale attempted 47 (and completed 22) despite only appearing in eight games.
So at this stage of their respective careers, it is clear that although Ronaldo can still run with the ball, Bale has the edge in terms of dribbling ability and attempts many more dribbles than his club colleague.
---
DEFENSIVE CONTRIBUTION
---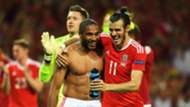 Defensively, Ronaldo's numbers do not make for happy reading at Euro 2016, where the Portuguese has not made a single tackle or a single interception in his 510 minutes on the pitch so far. Bale, by contrast, has made eight tackles and three interceptions for Wales at this tournament in his 443 minutes.
In the qualifiers, Cristiano did a little better with two tackles and three interceptions in his six appearances, but Bale again has the edge here with seven tackles and four interceptions - albeit in 10 matches.
At Real Madrid, both won 11 tackles in La Liga, but Ronaldo played in 36 games to Bale's 23 (many of which were injury interrupted) and the Welshman managed 20 interceptions to his team-mate's eight. And in the Champions League, the former Tottenham winger made seven tackles and seven interceptions (in eight matches), while the ex-Manchester United man has just four tackles and three interceptions in his 12 games.
---
OVERALL VERDICT
---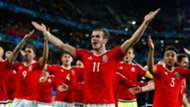 Statistics are, of course, open to different interpretations and football cannot be measured solely by numbers. However, the data presented here does paint quite an accurate picture of the roles, abilities, strengths, weaknesses, qualities and overall contribution of both players.
In terms of goals, Gareth Bale's ratio is slightly superior to Cristiano Ronaldo's, while the Welshman has not scored any of his goals from the penalty spot. However, the Portuguese is one of the game's greatest goalscorers and his insatiable appetite for scoring means he is probably still ahead in this department - not least because, despite injury, the Welshman has yet to hit 50 or more over a single season as his team-mate has managed consistently in recent years, while he also failed to net a single strike in the Champions League last term.
A look at the pair's respective totals when it comes to assists shows that Ronaldo is ahead again, but Bale sets up a goal more often than Cristiano as explained above and therefore, the Welshman can be considered superior in this aspect of the game. The Portuguese is more about scoring, while his Madrid team-mate is much more creative for club and country and the stats show that the Welshman sets up goals more often.
The pair are difficut to separate in their passing. For Real Madrid, the pair's stats are so similar that is it is impossible to pick one of the two. At international level, however, the Portuguese is more accurate than the Welshman and that means he has a slight edge overall. Obviously, though, reaching a solid conclusion is trickier here because it depends on the type of pass attempted: a crossfield ball to change the play or a reverse pass or through-ball is logically much more difficult than a short delivery.
An analysis of their dribbling skills shows that Bale is ahead in that department these days. For club and country, the 26-year-old attempts and completes many more dribbles than his Portuguese team-mate. And with regard to their defensive contribution, the Welshman is also on top. Ronaldo largely expects others to defend both with Portugal and at Real, with Bale well ahead in terms of tackles and interceptions for club and country - as the numbers above highlight.
Overall, then, it depends on interpretation of the numbers and what each individual is looking for in a player, but beyond goals scored and a slight advantage when it comes to passing accuracy, the stats seem to show that Bale is a better all-round footballer and a much more complete package than Ronaldo in 2016.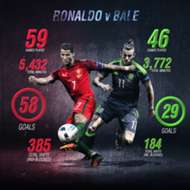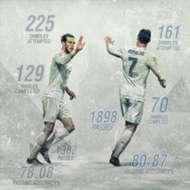 Goal journalists are powered by the Samsung Galaxy S7 and Gear 360