Transfers
Almeyda hoped to sign three players for Chivas in offseason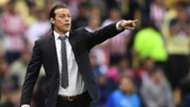 Chivas manager Matias Almeyda hoped to sign three players to improve the squad in the offseason, but he and the club's directors weren't able to secure their services, Almeyda said Wednesday.
The Guadalajara side has one point from its first two matches in 2018 after falling 3-1 to Cruz Azul on Saturday. For the Argentine manager, more winter signings would've helped, but he said there were moves that the club wasn't able to get over the line.
"Obviously you always have the desire to bring in players. Sometimes you can't because they cost a lot and the institution can't invest. I have to accept that. I have two choices: Accept it or go. I decided to stay," Almeyda said Wednesday at a news conference. "I wanted three players, the directors knew that and we couldn't (sign them). I don't get involved with the finances and even less so in a business that I don't have any idea about. I'm at Chivas and when I ask for a water carrier they tell me if it's possible or if it's not possible."
Chivas' biggest winter move was securing another loan deal for goalkeeper Rodolfo Cota. The team's starting goalkeeper, Cota was set to return to Pachuca and Tuzos had requested a fee that Chivas deemed too high until a draft-day move was announced. Chivas also signed 20-year-old forward Ronaldo Cisneros and 22-year-old winger Gael Sandoval from Santos Laguna. The club is limited in its player pool by its policy of signing only Mexican players.
After winning a league-cup double in the 2017 Clausura, Chivas struggled in the Apertura, amassing only 18 points and missing the playoffs. Tension already is rising in Guadalajara after the team's opening-round draw with Toluca and Saturday's loss to Cruz Azul. Almeyda pointed out that the team is still coming together and expressed confidence that the team will get things figured out.
"There's patience because the team is very reduced, very short and you have to take the best, giving confidence and showing the players where they can improve. It's coming along and I definitely think it's going to end well," he said.
Chivas travel to face Necaxa on Saturday and will be without midfielder Michael Perez, who is injured. Oswaldo Alanis is unlikely to make his season debut. The center back was separated from the club for the majority of the preseason because of a contract dispute but captained with the U-20s Saturday.
"We talked with him the last game and decided it would be good for him to play with the Under-20s," Almeyda said. "He finished the match a bit tired. I thought he looked good and he's training well. He hasn't played since November 4 and that's a lot of time not to play."