Transfers
'Arsenal may have to buy Welbeck replacement in January'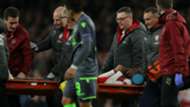 Arsenal's head of football Raul Sanllehi admits that the club may be forced to buy a replacement for Danny Welbeck in January.
Welbeck sustained a broken ankle during the Gunners' 0-0 Europa League draw with Sporting CP prior to the international break.
He has since undergone two surgeries on the injury, and it remains to be seen if he will play for the club again, with his contract due to expire at the end of the season.
Manager Unai Emery says that 19-year-old Eddie Nketiah will be given a chance to replace Welbeck , but Sanllehi says that the club are considering all options, and may dip into the transfer market to find cover.
"That is absolutely something unplanned," he said of Welbeck's injury.
"Yes, that makes you consider things. I am not saying that's a green light to go to the market but we have good players in the house also that may get further opportunities, like Eddie Nketiah for example.
"We need to see. We are in November, so it's a good time to start analysing what options we have in the market. We are not closing the door but it's still not the preferred one.
"The plans were made in the summer. We are happy with how things are going. We are always going to strive to be the best team we can be.
"If there is a very good opportunity, we are definitely going to consider [it], we will see. Danny Welbeck's injury alters, in a way, the views."
Welbeck had been in fine form prior to his injury, scoring five goals in all competitions.
The Gunners are next in action against Bournemouth this weekend, before a Europa League clash with Vorskla. That is followed by the north London derby against Tottenham.