Transfers
The best team in Argentina and waiting for Tevez - Why Boca remain the side to beat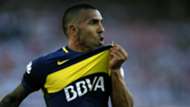 At the start of 2017 there was one big doubt hanging over Boca Juniors. Having built up a healthy lead in the Primera División prior to the southern hemisphere winter break, it remained to be seen whether the Argentine giants could sustain it without their captain, No. 10 and talisman Carlos Tevez, who moved to China with Shanghai Shenhua midway through the season.
The Xeneize answered in emphatic fashion, wrapping up the title with time to spare despite a mid-season lull that had threatened to let in arch-rivals River Plate. Now as another campaign kicks off without Carlitos – at least for the time being – they are still in a position to dominate locally.
Ricardo Centurion's turbulent exit from the Bombonera barely fazed those in charge during another productive, high-spending transfer window. Colombia playmaker Edwin Cardona was recruited from Monterrey, while Boca may just have pulled off the transfer coup of the summer – on either side of the Atlantic – with the arrival of Nahitan Nandez.
Nandez's name might not be too familiar in Europe right now, but he is a growing sensation in his native Uruguay. At just 21 the midfielder was named captain of illustrious Penarol, and he has already broken into the Uruguay national team as one of their best bets for the season. If anything the industrious destroyer is an upgrade on the more-heralded Rodrigo Bentancur, who left for Juventus in June.
Up front, meanwhile, the club still look extremely potent. Dario Benedetto and Cristian Pavon are two of the finest strikers in the new Superliga and have struck up a fine partnership which will strike fear into even the fiercest defences. Everything, then, is set up perfectly for Tevez to complete the puzzle with his return – and all indications suggest that moment is imminent.
"Tevez is coming in 10 days and I see him playing the Libertadores next year," president Daniel Angelici told La Red at the start of August. The first part of that prophecy certainly came true. Carlitos is currently in Buenos Aires recovering from the umpteenth niggle that has kept him on the sidelines at Shanghai, and will be at the Bombonera as a spectator on Sunday as Boca start their Superliga campaign at home to Olimpo. And while he will not be signing on at the start of the season, the striker is destined to seal his second homecoming in the new year by taking up a contractual clause allowing him to return to Boca should he fail to settle in China.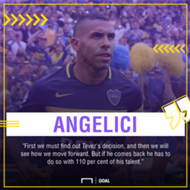 Angelici is keeping his cards close to his chest. "There are a lot of things to work out still, and they are not related to the friendship and affection I feel for Carlos and his family," he said to TyC Sports as speculation grew over the return of the prodigal son. "First we must find out his decision, and then we will see how we move forward. But if he comes back he has to do so with 110 per cent of his talent."
Tevez's commitment to Boca has never been doubted, placing the club in an almost unique position in a career that, while studded with trophies, has also been clouded with questions over the player's attitude and willingness to adapt. Those criticisms have reached a head in his nightmare China spell, where despite commanding a salary capable of feeding a small nation, Carlitos has been little less than a disaster for the Superleague club. A move back to Boca seems the only way out for the player who, at 33, still has plenty to offer his boyhood idols both at home and in their upcoming Libertadores campaign.
It will not be just Xeneize fans waiting anxiously for the move to be confirmed. After 10 years of failure to regain the Libertadores the trophy is an obsession for those in charge at the Bombonera, and they see a glorious 2018 campaign with Tevez at the helm as their best shot at breaking the drought. Bringing back their superstar would see the final piece of the puzzle fall into place for Boca, and teams across Argentina and South America will be bracing themselves against a formidable opponent.