PSL
Mamelodi Sundowns are the true champions of African football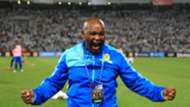 On Saturday night, Mamelodi Sundowns proved that they are the true champions of African football.
The Tshwane outfit defeated DR Congo's TP Mazembe 1-0 in the 2017 Caf Super Cup. The win culminated what will go down as one of Masandawana's most successful periods in their history.
Sundowns head coach Pitso Mosimane took over the reins back in 2012 and not even he could have predicted the success that he would achieve at Chloorkop. It has only been a mere few days since Sundowns' remarkable triumph and Mosimane is already looking forward to defending their Premier Soccer League (PSL) title.
The Brazilians are now the team to beat in South Africa and the question is, 'Can anyone compete with them?'
They have set the standard for South African football and it showed when Sundowns dismantled Orlando Pirates earlier this month. The Brazilians are fighting now at the peak of their powers and don't show signs of diminishing anytime soon.
Mosimane's men are currently playing catch up in the PSL as their continental success has come at a cost. But not even the hectic schedule can ruin their parade as they continue to soar. The club continues to average two points a match and this has put them in good stead towards their title defence. Though, Jingles as Mosimane is affectionately known, continues to downplay Sundowns' chances. He has chosen to take more of a cautious approach, but can a club that has caused a nation to dream, not believe that they continue to dominate the South African game?
If Sundowns continue with their remarkable form it will take something truly special to remove them from their perch. Whether it might be an unbelievable winning streak by Kaizer Chiefs, Cape Town City or any of their closest competitors, however, it does seem highly unlikely that Sundowns will fall.
Now that Sundowns have tasted the spoils of continental success, it is rather evident where their priorities lie. The days of settling for mediocrity are over and continental success has become the order of the day. South African football as a whole, needs to show gratitude towards Sundowns. The Champions League winners have instilled a sense of pride for the South African game. For many years South African football boasted a world class infrastructure and a financially lucrative league but on the field we had little to show for it.
Now with Downs holding Africa's crown, other South African football clubs are no longer looked down upon. The conquest of Africa has had a runoff effect as PSL clubs who previously overlooked continental competitions, in favour of domestic success, are learning from the Brazilians.
Sundowns success will now only buoy them on for further glory, and for Mosimane a return to the Fifa Club World Cup will be his next goal, as he feels he has unfinished business there. Nonetheless, for now a jubilant giant will look to dominate South Africa and continue to set the bar as the rest of South Africa looks to follow.
Who's to say Sundowns cannot replicate the dominance of Egyptian giants Al Ahly or Mazembe? After all, their return to continental competition next month will see them display an even stronger squad than what was used in the 2016 campaign. PSL and African football clubs really should be wary of what lies ahead for Sundowns as the Sky is truly the limit.