Primera División
LaLiga collaborates with NWFL to improve women's football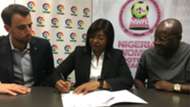 The Sports Association of the national Spanish Football Competition LaLiga de Fútbol Profesional (LaLiga) and the Nigerian Women's Football League (NWFL), have signed a memorandum of understanding to help bolster the women's football game in Nigeria.
The exclusive agreement between the two football league bodies is aimed at promoting gender equality in sports through the integration of women in football while encouraging access to sports management, education and the development of CSR activities.
Speaking about the partnership, LaLiga's Women's Football Director, Martina Olivas said : "In LaLiga, we have a firm commitment to supporting the development of women's football not only in Spain, but also internationally, as evidenced by agreements just like this one. We understand the growing strength of women football globally and we believe that this partnership will bring great benefits to both parties".
A particularly notable aspect of the partnership will include the exchange of football knowledge and experience between both bodies. LaLiga will facilitate the development of television commercials for the women football division in Nigeria.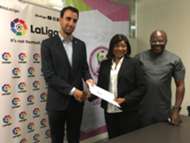 President of the Nigerian Women's Football League, Aisha Falode spoke on the agreement and said. "This is a very timely and important development for the NWFL and Nigeria women's football as a whole A strategic alliance and partnership with LaLiga, recognized as the world's best league is definitely a good step forward and in the right direction towards the growth and development of the women's game in Nigeria.
"It's a new dawn for women football in Nigeria, this is just the beginning of greater things to come for the NWFL as better days are fast approaching," she said.
"With the long string of success of our women's national teams in International competitions and their dominating status on the African continent (an achievement that is firmly rooted in the depth, quality and management of nation's women league), this partnership will help us bridge the gap with the development of the game in the western world."
Also speaking on the agreement was LaLiga delegate in Nigeria, Javier Del Rio, who said: "This is a very important agreement for LaLiga and its office in Nigeria, as it helps us to reaffirm our commitment to the development of football in the country. Women's football in Nigeria is already a benchmark in África and internationally, and we are very pleased to be able to collaborate with a league that has this much potential."
The MoU primarily borders around the sustainable development and growth of women's football both in Nigeria.