Suwon Bluewings v Sydney
Jurman: It was difficult to see Sydney FC win trophies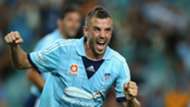 Former Sydney FC defender Matthew Jurman admits it was tough to watch his former club win A-League honours, after leaving just as their record-breaking reign was beginning.
The Sky Blues have won two A-League premiers' plates and a championship under Graham Arnold since the 28-year-old centre-back moved to Korean side Suwon Bluewings in January 2017.
As he prepares for Suwon's match against the Sky Blues in the Asian Champions League on Tuesday night, Jurman revealed it was hard to leave the Harbour City when the team was on the cusp of success.
"I left at a time when the team was just starting to win everything," Jurman exclusively told Goal.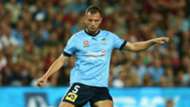 "It was a difficult time for me to leave and see them win the premiership and win the grand final.
"They also had a friendly game against Liverpool – which is my team that I support.
"It was a tough few months watching that but I was supporting them all the way."
Jurman's availability for Tuesday's match at the Suwon World Cup Stadium is in doubt, with the defender not having played a game since the Socceroos' playoff win against Honduras in November - and also missing the first contest between the Bluewings and the Sky Blues in February
While he didn't rule himself out of contention, Jurman indicated he was close to returning from knee surgery that has stalled his start to the season. 
He also revealed his excitement at seeing his former teammates again.
"I wanted to play the first game in Sydney but I had the injury - that was disappointing for me - especially to go back and see the fans (but not play)," he said.
"I don't know if I'll be ready (for Tuesday night) or the coaches will think I'm ready.
"I'm looking forward to seeing the (Sydney FC) boys and I think it's going to be a good game – hopefully we can get the win.
"It's going to be very strange. Even just seeing the fans and the (Sydney FC) boys. We were all very close when I played in Sydney and I'm sure they are still very close now."
The match between Suwon and Sydney FC kicks off at 9pm (AEST) and can be watched live on Fox Sports.