Odisha v Jamshedpur
ISL 2018-19: 'Like tossing a coin' - Jamshedpur FC's Cesar Ferrando explains his rotation policy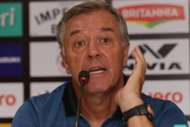 Cesar Ferrando's Jamshedpur are upbeat after beating FC Goa by a 4-1 margin. They face Delhi Dynamos in their next Indian Super League (ISL) fixture on Sunday.
The Jamshedpur head coach has regarded Josep Gombau's outfit as one to watch out for despite the capital side struggling to pick up their first win of the season.
"Delhi is a very dangerous team at this moment. They have very good players and a good coach. They want to win and it will be a very strong match tomorrow," remarked the Spaniard.
Ferrando admitted his satisfaction for the way his side has fared in the ISL with 10 points from six games.
"From the pre-season till today the team (Jamshedpur) has improved a lot. We need to continue with this work and keep the same level. The Indian players can also play better. I'm very happy with the performance," he said.
The former Atletico de Madrid coach rang in as many as five changes against FC Goa as Ferrando explained, "We make changes because I need all my players motivated. I like all my players motivated and when I count on a player to play, he is ready to play.
"I need to keep up the level of the team when we play four matches in a row. This is like tossing a coin, sometimes good and sometimes bad."
Little is he worried about the alarming pollution levels in Delhi as the Jamshedpur gaffer quipped, "We are professionals. We cannot make any excuses. We need to win and we are ready to play for a win."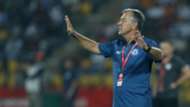 Cesar Ferrando was quoted to be satisfied with the draw against Kerala Blasters despite leading by two goals at the break and had also conceded that he would be content with a draw against FC Goa.
"We want to win. Sometimes, when the match is getting towards the end, you are happy with a draw at the end of the match. When you start the match, you play for a win," he stated ahead of facing Delhi Dynamos.
The win over Goa had come after a run of four consecutive draws and Ferrando acknowledged the importance of the same in order to change the mindset of the players.
"I think the team deserved to win against ATK and NorthEast (United). After four draws, sometimes you think it is impossible to win. Now after this victory (4-1 win over Goa), the last four draws are very good. You think different. We didn't lose the match, it's good for us but we need to win to increase our confidence," he said.