Premier League
'Hendo gave me a mouthful!' - Robertson talks striking a balance between attack and defence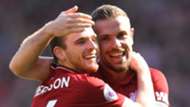 Liverpool defender Andrew Robertson has admitted he has been forced to keep his attacking tendencies in check at times this season.
The full-back earned a reputation for his offensive style during his first campaign at Anfield, but this year a change of mentality from himself and his fellow defenders has resulted in the Reds being one of the robust sides in the league.
Jurgen Klopp's men have conceded just four goals in their first ten Premier League games, and Robertson has revealed he has been slightly more cautious this season.
"Last season there were some games when we were 2-0 up and I was bombing forward and James Milner had to cover me," the Scotland international told the Telegraph.
"He wasn't happy about it and still goes on about it! So maybe I've listened to James a bit more.
"Hendo gave me a mouthful about that in one of the games, too. When we were 1-0 up against Brighton earlier this season - when it was not the best of games - it was about defending.
"Yes you want to contribute to attack but I was not going to push on and risk losing the ball. Maybe we have got the level of control now where we are prepared to see out the game a lot more. So far that has worked.
"The manager is always on at me to be more involved. He wants the full-backs up and down. At times I may be in the wrong position, but he wants me to keep showing for the ball."
Roberton missed last week's 4-1 victory against Cardiff City, when Liverpool conceded their first Premier League goal at Anfield since February.
Although he and his team-mates were delighted to pick up three points, he admits the team were disappointed to concede.
"We want to keep a clean sheet every week, that is why there was so much disappointment," he said.
"If you are gutted when you concede goals, and hungry not to, it can only work well for the team.
"There has been a lot of talk about the defence at the start of the season, but we need to continue. If we do win games 4-3, we'll still be happy. 
"Winning is most important, no matter how you did it. 3-0 every week is the ideal situation. It's a bit more difficult than that."