Roberto Mancini
Zola: Italy need more than just Mancini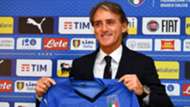 Gianfranco Zola is impressed with the appointment of Roberto Mancini as the Italy national team boss, but he thinks that more needs to be done to improve the quality of young players after the heartbreak of missing the 2018 World Cup.
Defeat in a two-legged play-off against Sweden saw the Azzurri fail to qualify for the tournament in Russia for the first time since 1958 while manager Gian Piero Ventura lost his job.
Chelsea legend Zola played 35 times for his country, scoring 10 goals, and he is predicting a long road back to the top of the international game for his fellow countrymen.
And he revealed that in Italy's absence he would be supporting Argentina and their talisman, Lionel Messi, in their pursuit of glory this summer.
"I think that the manager will be a first step to fill the gap that we need to fill. Italian football needs more than just to choose a good manager," Zola told Goal.
"They have to improve the production of young footballers, improve the quality of the footballers that we produce.
"It is a process that will take long than that. We will all be very disappointed and crying about not being at the World Cup. I think people don't realise yet just how big it will feel to miss the World Cup.
"Without Italy, I have the feeling that it can be the year of Lionel Messi and Argentina."
Zola enjoyed his best years at Chelsea, but before his arrival in west London he acted as the understudy for Diego Maradona in Napoli's Scudetto winning side of 1990 as a youngster.
And he believes that Napoli deserved to win Serie A again this season after missing out in the title race against Juventus, and he remains confident they can recover even if a number of their players leave this summer.
"Of course, being associated to Napoli, I would have wanted them to win it and I think in a way they actually deserved to win it because they have been very, very good throughout the season.
"The competition from Juventus was very strong and they have managed to win it again.
"Still, Napoli represents a fantastic reality in Italian football and they made the tournament interesting, which is something that it hasn't been for the last four or five years.
"They went very close and if you see the story of Napoli over the last three years, it has been a crescendo and I think hopefully next year that they can go one better."
Zola is preparing to line up in the Chelsea shirt once again on Friday as they take on Inter Forever, in a match that is in memory of Ray Wilkins, who passed away last month.
Tickets can be bought for Chelsea legends versus Inter Forever through Chelsea's official website. The match is in memory of Ray Wilkins, who passed away last month.