World Cup 2018 stadiums: Your guide to the venues in Russia
Last Updated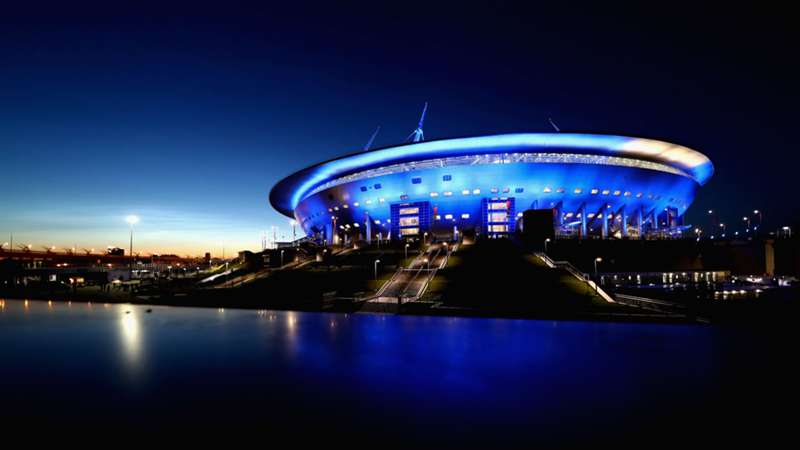 Getty
Russia's footballing infrastructure has undergone a massive transformation ahead of the 2018 World Cup, with the country now littered with modern stadiums built or refurbished for the upcoming tournament.
There are so many new builds, in fact, that the home grounds of some of Russia's biggest clubs, such as CSKA Moscow's VEB Arena (opened in 2016) and Dynamo Moscow's VTB Arena (opened this year), have not been included in the bid.
Instead, 12 stadiums have been selected centred around Moscow's Luzhniki Stadium, which has been revamped for the final.
Every venue will host four group games as a minimum, with the allocation of knockout matches included in our comprehensive guide below.
---
Luzhniki Stadium
---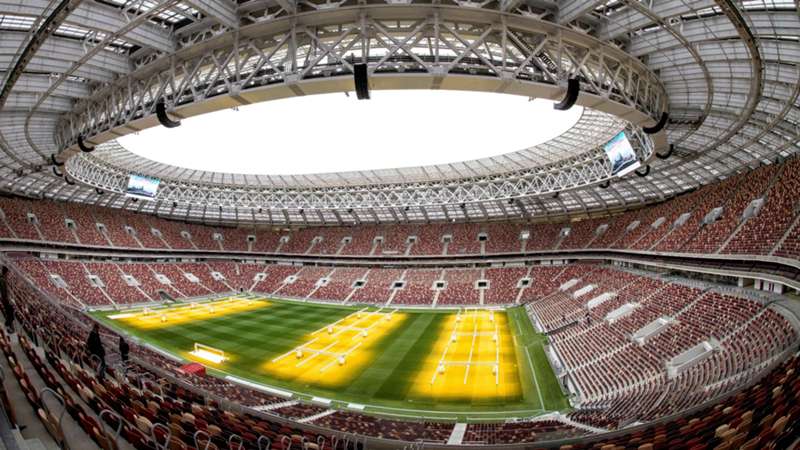 City: Moscow
Capacity: 81,000
Status: Complete
The biggest of Russia's stadiums for the World Cup - and the venue for the final - will sound familiar to Manchester United and Chelsea fans; it hosted the Champions League final those two clubs contested in 2008.
The inside of the Luzhniki has been demolished and rebuilt since 2013 but the roof, which was only added in 1996, and the iconic outer facade have been kept and incorporated into the new structure.
Its capacity has been increased slightly to 81,000 and the athletics track has been removed, which should help to improve the atmosphere.
Group games: Russia vs Saudi Arabia, Germany vs Mexico, Portugal vs Morocco, Denmark vs France
Knockout games: Round of 16, semi-final, final
---
Spartak Stadium
---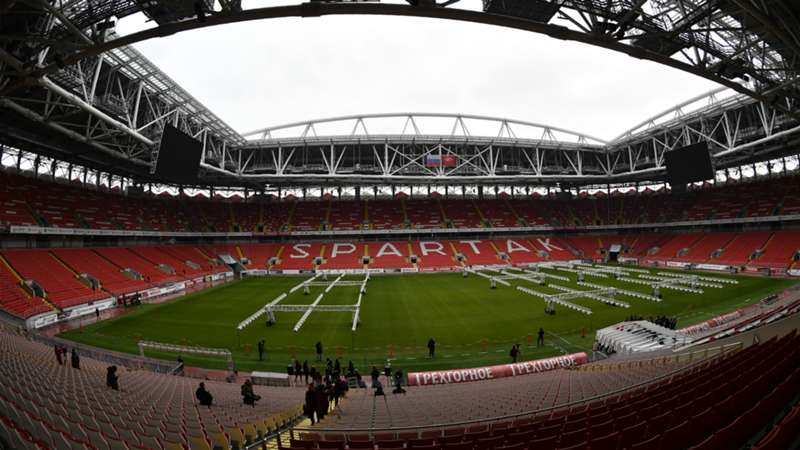 City: Moscow
Capacity: 45,360
Status: Complete
Usually known as the Otkritie Arena, this is, as its World Cup name suggests, the home of Spartak Moscow and was opened in 2014. Because it was already completed, it was one of the four venues used for the Confederations Cup in 2017.
Despite being the most successful team in the history of Russian football, Spartak had never had their own stadium until this venue was built, instead playing at various different grounds in Moscow. It seems to have helped, as - having won nine of 10 between 1992 and 2001 - they claimed their first league title in over 15 years in 2016-17.
One unique feature of the venue is the lifesize statues of the Starostin brothers, who founded the club, located behind one of the goals.
Group games: Argentina vs Iceland, Poland vs Senegal, Belgium vs Tunisia, Serbia vs Brazil
Knockout games: Round of 16
---
Kazan Arena
---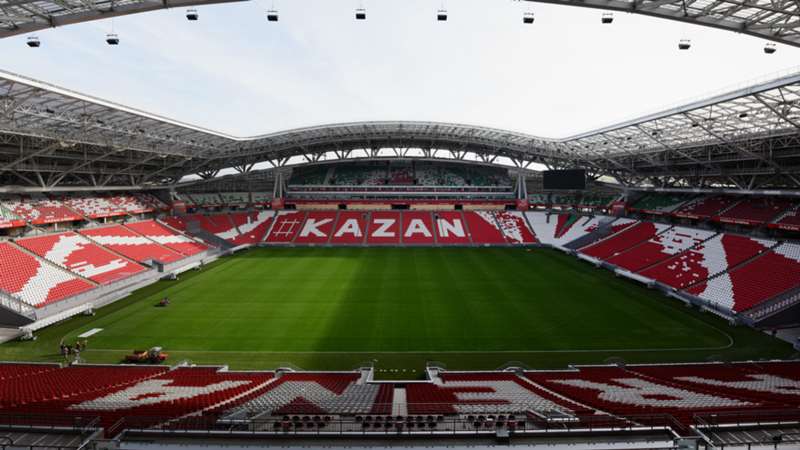 City: Kazan
Capacity: 45,379
Status: Complete
Rubin Kazan moved out of their old, multipurpose Central Stadium to the new Kazan Arena in 2013. It is notable for having the largest outside screen in Europe, running across one stand's entire outer wall.
As another venue completed well before the finals, it was also selected for use at the Confederations Cup, hosting one of the semi-finals.
Group games: France vs Australia, Iran vs Spain, Poland vs Colombia, South Korea vs Germany
Knockout games: Round of 16, quarter-final
---
Samara Arena
---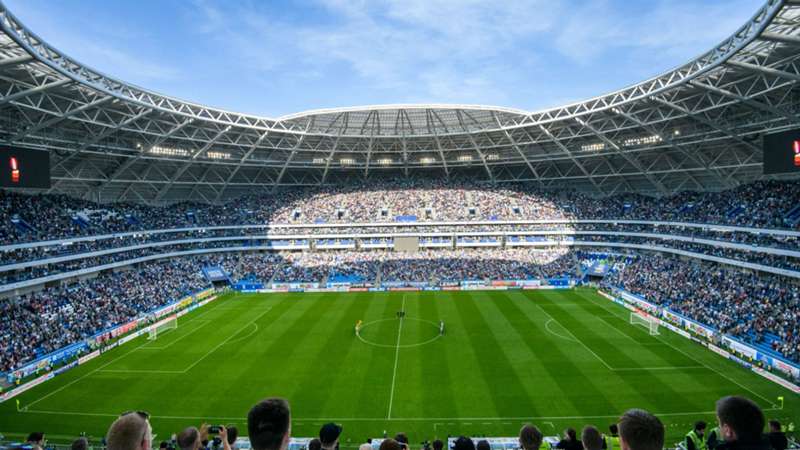 City: Samara
Capacity: 45,568
Status: Complete
Samara Arena - which will be known as Cosmos Arena outside of the World Cup - was completed in 2018 and will become the new home of Kylia Sovetov, who currently play at the Metallurg Stadion.
Built as a space-age glass dome, the stadium will pay homage to Samara's role in the Soviet Union's space-exploration program and the continued prominence of aerospace business and research in the city.
A fire in August caused delays during the construction of the stadium, but it was still built on schedule.
Group games: Costa Rica vs Serbia, Denmark vs Australia, Uruguay vs Russia, Senegal vs Colombia
Knockout games: Round of 16, quarter final
---
Mordovia Arena
---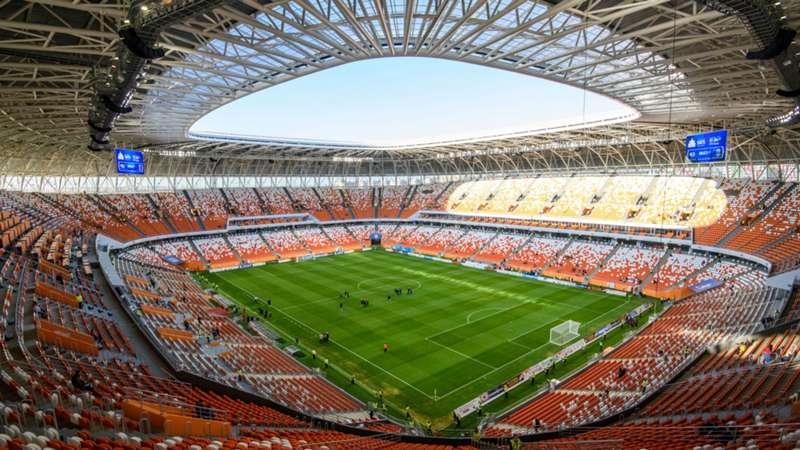 City: Saransk
Capacity: 44,442
Status: Complete
Mordovia is a republic of over 800,000 people located about 500 kilometres south-east of Moscow, but is part of the Russian Federation. This new stadium will be home to FC Mordovia Saransk, a club formed by the merger of two local teams in 2005.
Though the capacity of the stadium will top 44,000 for the World Cup, it will be reduced to 28,000 after the tournament to be more in line with the needs of its permanent tenants - though it will still be of significant size for them as a third-division club.
The stadium is was opened on April 21 with a test match, with construction on the Mordovia Arena and its infrastructure having started back in 2010.
Group games: Peru vs Denmark, Colombia vs Japan, Iran vs Portugal, Panama vs Tunisia
Knockout games: None
---
Rostov Arena
---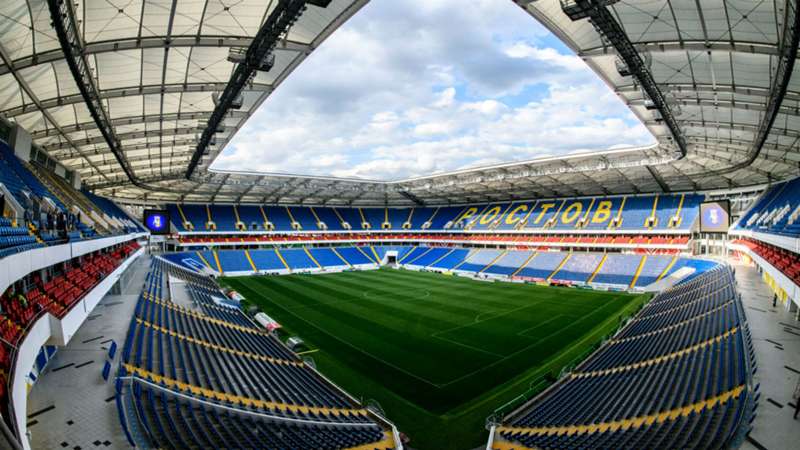 City: Rostov
Capacity: 45,000
Status: Complete
The Rostov Arena will be part of a major new development in the city on the banks of the Don River, and will become the home of FC Rostov as well as a World Cup venue.
Located 1,000 kilometres south of Moscow, Rostov have never won a league title but came agonisingly close against the odds in 2015-16, finishing two points behind CSKA Moscow.
The stadium and adjacent park were opened in May 2018 and includes over seven kilometres of cycle path, pedestrian walkways and green areas.
Group games: Brazil vs Switzerland, Uruguay vs Saudi Arabia, South Korea vs Mexico, Iceland vs Croatia
Knockout games: Round of 16
---
Fisht Stadium
---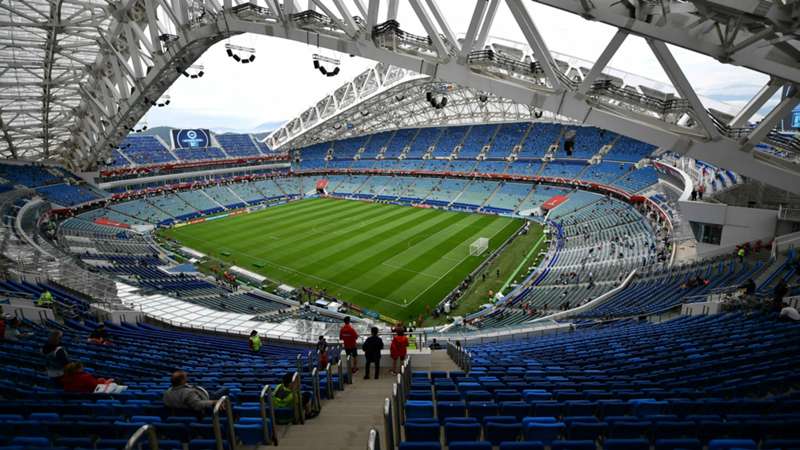 City: Sochi
Capacity: 47,659
Status: Complete
The Fisht Olympic Stadium is one of Russia's most interesting projects for the World Cup - it was originally built for the Olympic and Paralympic Games in 2014 but was an enclosed, indoor arena.
To make use of it for another couple of tournaments (it was a venue for the Confederations Cup), it has been converted into an open-air football stadium that meets FIFA's regulations. The ground is owned by the government of Russia and is not home to a club team.
Group games: Portugal vs Spain, Belgium vs Panama, Germany vs Sweden, Australia vs Peru
Knockout games: Round of 16, quarter-final
---
Ekaterinburg Arena
---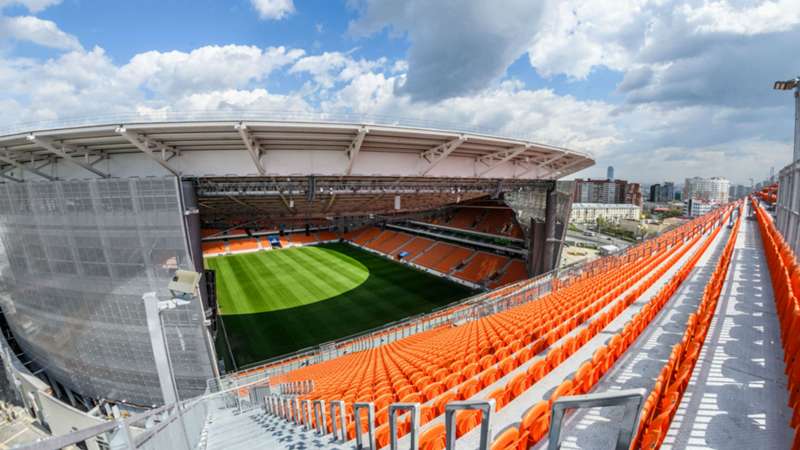 City: Yekaterinburg
Capacity: 35,696
Status: Complete
This is undoubtedly the weirdest stadium the Russians have built for the World Cup.
Known as Central Stadium in Yekaterinburg, it was a previously multipurpose venue that had only recently been remodelled but needed another complete overhaul for the World Cup and, afterwards, for use by FC Ural Yekaterinburg. It will hold 35,000 fans during the tournament before being reduced to a 25,000 capacity.
It has drawn attention ahead of the tournament for the fact that the top of the stand behind one of the goals appears to rise so high as to be in a position directly behind the roof (which is absolutely massive, by the way).
Group games: Egypt vs Uruguay, France, vs Peru, Japan vs Senegal, Mexico vs Sweden
Knockout games: None
---
Volgograd Arena
---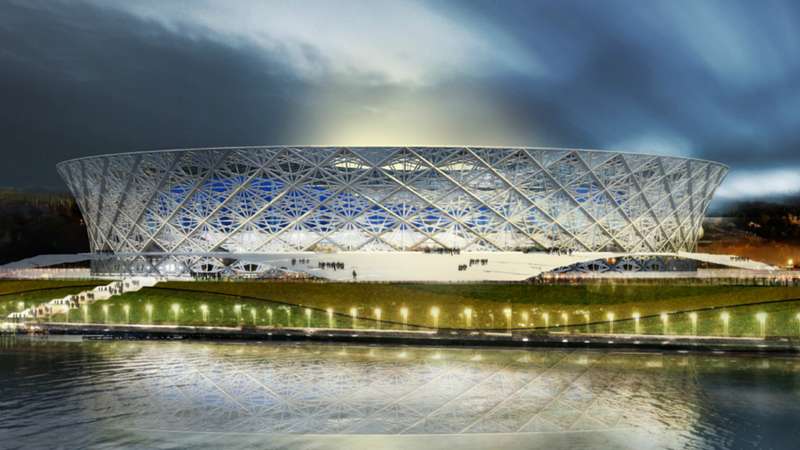 City: Volgograd
Capacity: 45,568
Status: Complete
This is one of the new builds designed specifically for the World Cup and will also become the home stadium of FC Rotor Volgograd. It will be built on the site of Rotor's old Central Stadium, which was demolished in 2014.
Surprisingly, despite being brand new, relatively large and boasting an eyecatching open-lattice design, the venue will not host any knockout matches. That may be something to do with the city's location nearly 1,000 kilometres south of Moscow.
Group games: Tunisia vs England, Nigeria vs Iceland, Saudi Arabia vs Egypt, Japan vs Poland
Knockout games: None
---
Nizhny Novgorod Stadium
---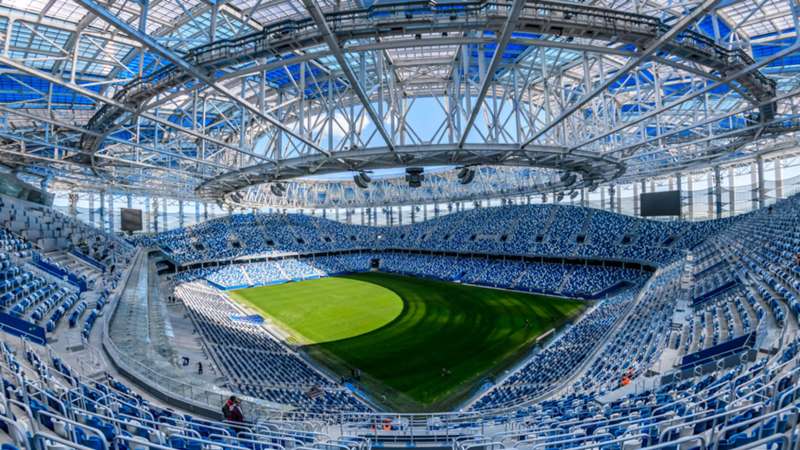 City: Nizhny Novgorod
Capacity: 44,899
Status: Complete
Another riverside stadium, the Nizhny Novgorod Stadium is located at the confluence of the Volga and Oka rivers. It is next to the Alexander Nevsky Cathedral and across the water from the Nizhny Novgorod Kremlin, creating an impressive backdrop.
After the tournmanent, FC Olimpiyets Nizhny Novgorod will move into the stadium. They were promoted to the Russian second tier in 2016-17 and have become the city's top club following the dissolution of FC Volga Nizhny Novgorod.
The grass was installed in August 2017 following a successful testing period in Scotland, while the city has built new training facilities and practice fields which will be used by children and local sports teams after the World Cup.
Group games: Sweden vs South Korea, Argentina vs Croatia, England vs Panama, Switzerland vs Costa Rica
Knockout games: Round of 16, quarter-final
---
Kaliningrad Stadium
---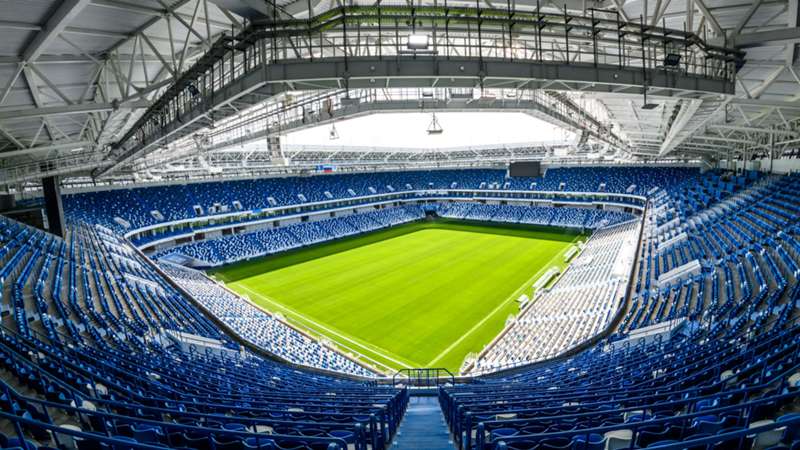 City: Kaliningrad
Capacity: 35,212
Status: Nearing completion (new)
Kaliningrad is unique among the 2018 host cities in that it is not actually a part of mainland Russia but is in an exclave between Poland and Lithuania, lying only slightly further east than Stockholm and Warsaw.
It will hold over 35,000 fans for the World Cup before having its capacity reduced to 25,000 to become the new home of FC Baltika Kaliningrad, who play in the second tier, at the Arena Baltika.
The stadium was due to be opened officially in March with a friendly game between Baltika and German side Schalke, but the game was called off, ostensibly due to extreme weather conditions.
Group games: Croatia vs Nigeria, Serbia vs Switzerland, Spain vs Morocco, England vs Belgium
Knockout games: None
---
Saint Petersburg Stadium
---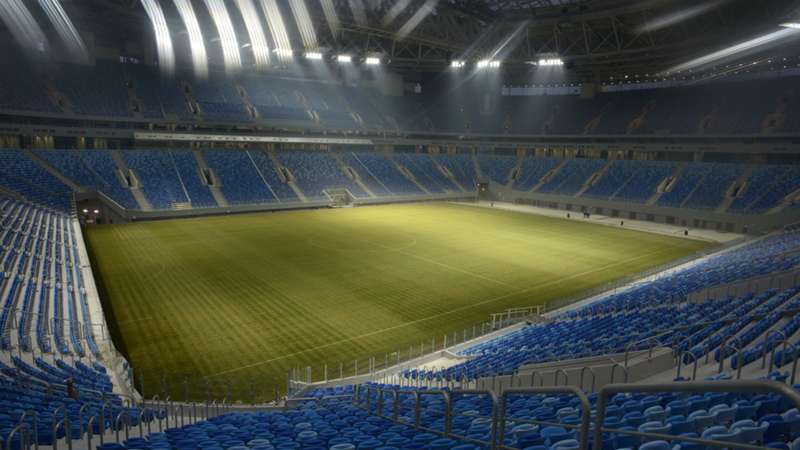 City: Saint Petersburg
Capacity: 68,134
Status: Complete
If you thought Russia's stadium construction seemed to be going much more smoothly than Brazil's for 2014 you must not have heard of Zenit's new Krestovsky Stadium, which will be known as the Saint Petersburg Stadium for FIFA tournaments.
As you can see, it looks stunning - and so it should, because it is nine years late and massively overbudget. Zenit finally moved into the ground in April after countless setbacks and it hosted the Confederations Cup final.
Group games: Morocco vs Iran, Russia vs Egypt, Brazil vs Costa Rica, Nigeria vs Argentina
Knockout games: Round of 16, semi-final, third-place play-off