Chelsea
Sarri: Abramovich wanted me for attacking football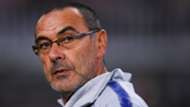 Chelsea head coach Maurizio Sarri believes that his club's owner Roman Abramovich brought him in specifically to play his attacking brand of football, but added that he has worked so tirelessly on the training ground, that he has barely seen any of London. 
Sarri arrived at Stamford Bridge late after Chelsea chased him over the summer, as they struggled to find an agreement with Napoli's president Aurelio De Laurentiis over bringing him into the club.
Napoli ultimately let Sarri go, but the relationship between both parties has subsequently become strained, as a war of words is waged in the media.
The length of the negotiations left Sarri with a very short pre-season to work in, having arrived a week after many first team players, while the World Cup also had a major impact.
Abramovich will have wanted Sarri sooner but he will be happy to have gotten his target over the summer to replace Antonio Conte. The switch from Conte to Sarri sees a complete overhaul in the style of football and Sarri thinks that the rich Russian oligarch understands the requirement for patience, despite not being known to wait for success.
"But I think he [Abramovich] knows it [will take time]," Sarri told reporters. "If they called me 40 days ago, I think it's because they wanted to see my football here. It's not easy, but I have to try.
"It's important if I like it, first of all. I want to enjoy, I want to have fun, press the ball. Then, if I enjoy the game, maybe the supporters enjoy the game. And I think that, if the team enjoy the game, they'll have a lot of opportunities to win the match.
"It will take two or three months. But I think, in this case, with this team, there are very intelligent players."
Sarri has his side ready for a visit to Newcastle United where Chelsea suffered disappointment at the very end of last season by losing 3-0. The loss saw them go into the Europa League after finishing fifth, rather than the Champions League as the club had targeted, and Sarri will lead his team in the less prestigious European competition in September.
One of the 59 year old's biggest concerns as he adjusts his team, is to improve the defending in the high pressing system he imposes on the players. Sarri isn't known for compromising his beliefs and spoke about his challenge, after last week growing worried with a 15 minute period against Arsenal, where he side lost control of the game.
"I don't know. Maybe I have to do that [compromise my beliefs in future], but I am better when I play my football, my way of football," he added. "I don't know if I'm as good of a coach if I teach another way of football.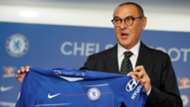 "It's not so easy to change the player's mind [when defending too]. If you are used to defending by looking at the man and I ask you to defend by looking only at the ball, I think if you are 18 it's maybe easier. If you are 28 and, for 10 years, you've played the other way, it's not so easy. So you have to change completely the mind.
"I think it's better. I think, if you arrive to think in this way, then it's very easy. It depends only on you. You are not depending on the opponent. I think it's very easy and if you defend by looking only at the ball, you can stay very high up the pitch. In the other way, you defend on the movements of the opponent."
Sarri's defensive plan doesn't involve only pressing. He likes to see very little distance between his defence and his attack, when the other side have possession.
The forward line will normally be no more than 15 metres away from the defensive line and Sarri rubbished the assertion that his players are struggling to cope physically with his methods.
"No. I don't think so. If you defend forward, you only have to do 10-15m," Sarri continued. "If you have the ball inside, you have to back for 50m. I think we can press for 90 minutes, only if we have the right distances between the players, we stay very high. Otherwise it's a problem, of course.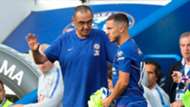 "In the last part of the first half against Arsenal we lost distances, so it was impossible to press and recover the ball. We were immediately in trouble. But I think we can do it for 90 minutes."
Sarri has been very busy since arriving into Stamford Bridge as he immidiately offered advice on transfer targets, getting Jorginho simultaneously upon signing and then Kepa Arrizabalaga and Mateo Kovacic later in the transfer window.
He also took the club to their overseas pre-season tour, which began in Australia, before coming back to Europe. Sarri was asked whether he has found time to enjoy London since coming to the club, but he admits he has only managed to go for one walk in the city, in his first 40 days in charge.
"I am not able to switch off," he concluded. "I have spent only one day in London in 40 days here. But the moment was difficult. We had to prepare the season without players, so it was difficult the first part of the season for me. But I'm not able to switch off, me. Never.
"I am thinking always about my team and about the match, or the next match. It's my way to work in football. After the match with Arsenal I remained in London, only a long walk in the centre of London. And I found a lot of people of Naples."