West Ham United
Obiang: Moyes has changed West Ham's mentality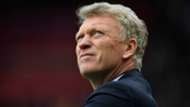 West Ham midfielder Pedro Obiang has praised new manager David Moyes for changing the mentality at the club and giving the players new energy.
The former Everton and Manchester United manager took charge of the Hammers following the departure of Slaven Bilic and will oversee his first game on Sunday as they travel to Watford.
Obiang is impressed with what he has seen from Moyes so far and believes that the 54-year-old's approach to coaching will help build a new philosophy at London Stadium.
"The energy the manager and his coaches have brought has been really positive and, in this situation, for the players, for the supporters and for everybody, we are experiencing new things," Obiang told the club's official website.
"Of course, we know what happened before, but it is time to change and think about what we are doing right now and that's what we are doing. It's really important that we start afresh. It has happened many times at every club, but now everything has changed and it's not about one game, one player or one thing; we have changed our mentality and we cannot have any more excuses.
"If we work together, every player and every member of staff, then we can do what we want to do."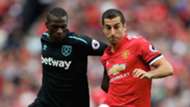 Moyes has not had long to work with the team due to the international break, but Obiang believes that he has already had an impact on the training ground. The 25-year-old played at Sampdoria for five seasons before moving to the Premier League to join the Hammers and has compared Moyes' approach with the training he received in Serie A.
"We are training more than before, not in terms of time, but in terms of the quality of the things they are doing," Obiang continued. 
"The manager has changed the intensity of many things, we have done more things tactically, and he's bringing everything new for us, which is good because he is giving us his philosophy.
"It's similar to the training I did in Italy but, at the same time, it is different because we have many coaches around, telling us what they want and that can only help us."