Asian Cup Qualification
North Korea-Malaysia tie to be played on June 8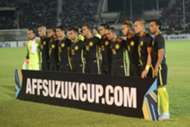 The Asian Football Confederation (AFC) has announced that the postponed North Korea-Malaysia Asian Cup qualification group match will be played on June 8 at a neutral venue.
North Korea will have until April 14 to find a neutral venue for the match, says AFC secretary-general Datuk Windsor Paul John. However he added that the need for a neutral venue will depend on the diplomatic situation between the two countries.
"We've given them until April 14 to come back to us with the neutral venue, in the event that the diplomatic situation (between North Korea and Malaysia) is not solved," said John in a press conference at the AFC headquarters in Kuala Lumpur, on Wednesday.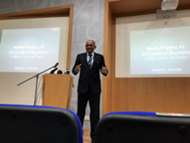 AFC secretary-general Windsor Paul John in the press conference. Photo by Ooi Kin Fai
The match, originally scheduled for March 28, had earlier been postponed due to the escalation in the two countries' diplomatic ties, brought about by the murder of a man believed to be the estranged half-brother of the hermit republic's president in Malaysia on February 13.
The Malaysian government then expelled the North Korean ambassador to the country, and the North Korean government responded by barring Malaysian diplomas and citizens from leaving North Korea. The South East Asian country soon retaliated in kind.
Earlier this month, the Malaysian government barred the Malaysia national team from travelling to North Korea for the match, citing security reasons, with the AFC last week finally announcing its postponement.
During the press conference, John also explained the reason for the new date.
He explained that as the match was originally part of Matchday 1 calendar of the qualifications, the postponed North Korea-Malaysia tie must be played before the second matchday on June 13. However in the 2017 FIFA international match calendar, the next international match window after April 28 will only be on June 5-13.