Transfers
Mourinho not ruling out Man Utd move for 'phenomenal' Alexis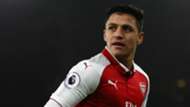 Manchester United manager Jose Mourinho has refused to rule out a move for Arsenal forward Alexis Sanchez.
The Chile international has been widely tipped to join Manchester City, either in the January window or when his contract runs out this summer, but United are reported to have entered the race.
And in his press conference on Friday, the United boss did not deny his club could move for Alexis.
"I don't know if ethical or correct," he told reporters."The word we can find to be speaking about players of other clubs. If somebody speaks of one of my players to tell we are interested or we are not interested, I wouldn't be very, very happy.
"Sanchez is an Arsenal player, I don't know but probably this weekend he is going to defend Arsenal colours so I don't think it's correct to say things about Alexis Sanchez.
"At the general level what I can say is myself and the Manchester United board, the owners, we don't believe a lot in the January market, we don't believe in signing a player just to sign a player, just to do something, we don't believe in that.
"What we believe really is there are some players in football world if you have the chance to sign them in January, in March or in July, you have to try and that's it.
"But in relation to Alexis Sanchez I don't say a word. The only word I can say is he is a phenomenal player, apart from that an Arsenal player and I feel I shouldn't say much more than this."
Goal understands that City remain hopeful of signing Alexis, but they are wary of overpaying for the star, whom Arsenal value at £35 million.
It was reported on Thursday that United have approached Arsenal regarding Alexis, although senior City sources are themselves unaware if that is merely mischief making - either on the part of agents or their rivals - or a genuine attempt to stage an eleventh hour coup.
Alexis has made 21 appearances for the Gunners in all competitions this season, scoring eight goals and providing four assists.
United have recruited aggressively under Mourinho's management, spending £145.8m on Romelu Lukaku, Victor Lindelof and Nemanja Matic in the summer transfer window.