Jürgen Klopp
Klopp names Gotze as the best young player he's worked with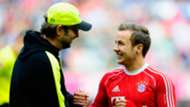 Liverpool boss Jurgen Klopp has named Mario Gotze as the best young player he has coached.
The German has been fortunate enough to work with some of the finest talent on the planet during spells at Borussia Dortmund and also at Anfield.
Germany 5/1 favs to win World Cup
He enjoyed Bundesliga title success in his homeland, with the squad he pieced together at Dortmund including World Cup winners and international stars.
Gotze, who netted the extra-time winner to help Germany to global glory in 2014, is considered to be the pick of the bunch in terms of young players, with the 25-year-old forward being held in the highest regard by Klopp.
Asked to pick the finest young player he has worked with while at a charity event in Cape Town, Klopp said: "Mario Gotze.
"He was unbelievable. The biggest improvement, though, was Lewandowski.
"I keep in contact with a lot of my Dortmund players.
"They were young when I coached them, so I was like a father to them. When I left Dortmund, it's not so important what people think when you come, it's more important what they think when you leave."
Gotze was promoted out of Dortmund's academy system during Klopp's spell at the helm.
He left for Bayern Munich in the summer of 2013, but returned three years later and has since been linked with a reunion with Klopp in England .
Such a move could still happen, with Gotze having seen fitness issues prevent him from making the expected impact during his second stint at Dortmund.
His qualities would fit the mould at Liverpool, with Klopp still looking to embrace the all-action 'heavy metal' brand of football which delivered him so much success in the past.
He added in South Africa when asked about his philosophy: "My managerial style? I hope no one falls asleep when I answer!
"The most important skill in life is common sense. I'm not skilled in intelligence, but common sense I take to the highest level.
"I love to play entertaining football. I would rather have someone hit the crossbar than not shoot. I don't like a victory with 80 per cent.
"If you're not completely exhausted, it's a waste of time. I'm not the smartest manager in the world, but maybe the most passionate."