Olivier Giroud
'I've equalled Zidane and no one can take that from me' – Giroud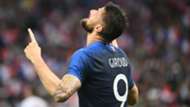 Olivier Giroud has said that it is an honour to have matched Zinedine Zidane's scoring record for France, and now he has David Trezeguet in his sights.
The Chelsea forward scored his 31st goal for the national team in a 2-0 friendly victory over Ireland in May as the preparations for the World Cup ramp up, matching the legendary No.10 in the process.
Zidane got his goals in 108 matches, while it has taken striker Giroud 73 games to move joint fourth in his country's all-time leading goal scorers.
The 31-year-old striker has his eyes set on overhauling Trezeguet, who is three goals better off.
"I've equalled Zidane and that's something no one can take away from me," he said. "Trezeguet has three goals more and I want to catch him up and score as many as I can. On a personal level, it's an objective, an ambition."
Only Michel Platini (41) and Thierry Henry (51) in addition to Trezeguet can claim to have netted more times for the national side, but Giroud has not always had it easy with France. 
Indeed, just as Paul Pogba faced jeers from his own fans, the former Montpellier and Arsenal man overcame similar treatment several years ago as he took Karim Benzema's place in the team.
"Of course it's not nice to be criticised or booed," he commented. "Now I'm done with it. I used it to harden myself.
"It was unfair at one point because I did not demand anything. It surprises me that we're still talking about it four years later."