Brazil
In-form Alisson proving World Cup credentials for Brazil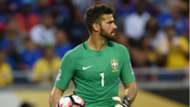 There are few shirts in world football that come with more responsibility at a World Cup. It is one that leaves no margin for error. Particularly at the World Cup finals. 
Despite the 7-1, Brazil boast a historically excellent defensive record in the tournament: In 102 games, the Selecao have conceded less than a goal-per-game – a better average even than Germany, who have allowed 121 goals in 106 games.
And with so many teams ready to sit back and counter-attack against five-time world champions Brazil in Russia this year, Tite's side can ill-afford to give anything away.
---
READ MORE: 
EXCLUSIVE: BGT meets Willian | Neymar moved to tears | EXCLUSIVE: BGT meets Renato Augusto
---
Thankfully, they have found the most dependable of custodians in Roma's Alisson, who first broke into the side under previous coach Dunga and has remained first-choice since Tite's arrival in June 2016.
Despite some early criticism after ousting Jefferson from the role, Alisson has never let his country his down, and looks set to arrive at World Cup 2018 in the form of his life and with total confidence from the coach and his staff.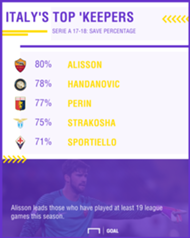 While last season there were constant suggestions that Brazil must find a new goalkeeper due to the fact that Alisson was a reserve to Wojciech Szczesny following a move to Roma, this season he has not only become his club's undisputed no.1, but is the outstanding goalkeeper in Italy at the halfway stage of the season.
"I worked hard to get where I am, to be a starter in the Selecao, and I'm not going to give it up," Alisson told Folha de Sao Paulo.
Alisson never gave it up, or had it taken from him, last term despite the lack of action he saw for his club. Every time he was called upon by Tite, he performed.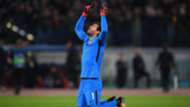 In fact, there has been no major blips since a mistake against Peru at the Copa America under Dunga, and that was perhaps more illustrative of the general disarray in the team at the time than of Alisson as an individual.
Since then, Alisson has conceded just one goal 11 World Cup qualifiers under Tite. Moreover, his excellent record has continued in Serie A, where he leads the way when compared to Italy's other goalkeepers.
"The goalkeeper coach told [of his quality] right away, but when I saw him on the pitch I was stunned by his presence and the calmness he brought to the entire team," Roma boss Eusebio Di Francesco told Corriere dello Sport.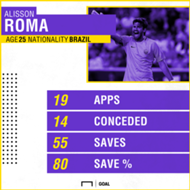 And since making the position his own in the eternal city, Alisson himself has noticed there are no longer discussions over whether or not he should be his country's no.1, despite the impressive form of Ederson at Manchester City.
"In the last few months, I have not seen the criticism that was there before but, even then, it did not affect me very much. Whenever I was called up for national team, I was ready."
Alisson has conceded just 14 goals in 19 games in Serie A this season, and just 18 in 24 overall. He was particularly impressive in his side's vital UEFA Champions League draw with Atletico Madrid, making save after save to secure Roma a crucial point that helped them to the knockout stage.
Ederson is still competing for the no.1 jersey, but with just six months and four matches until the competition begins, it appears that only an injury would prevent Alisson from adding his name to an illustrious list of those who have kept goal for Brazil at a World Cup.
All he has to do now is hold his nerve. He's earned the responsibility.