Premier League
How Emery plans to bring the glory days back to Arsenal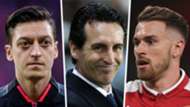 Arsenal have a new manager after 22 years and Arsene Wenger's successor has been tasked with taking the Gunners to the next level.
The press statement which announced Unai Emery's arrival at Emirates Stadium described the Spaniard as a 'head coach' rather than manager. This was a telling piece of detail and confirms that the club have adopted a new continental - or north American – model, with Raul Sanllehi and Sven Mislintat both working closely alongside the new coach.
A hard-working and intense man, the 46-year-old former Sevilla and PSG boss is known for his video sessions which previous players have described as "obsessive".
"Emery put on so many videos I ran out of popcorn," said former Spanish winger Joaquín who played under Emery at Valencia.
"He's obsessed by football, it's practically an illness. He's one of the best managers I've had. I worked with him for three years ... I couldn't handle a fourth."
Chief executive Ivan Gazidis remarked that the Arsenal board would be "bold in the appointment" to find Arsene Wenger's successor and while they decided against hiring Mikel Arteta, there can be no doubt that Emery's arrival makes perfect sense with regards to his European experience and managerial pedigree.
The Gunners insist that they ran a thorough process which involved hours of research and interviews with candidates and it's clear that plenty of thought went into the decision. From the outside, appointing Arteta seemed like a risk.
And in the end it was a risk not worth taking for a club who have slipped away from Europe's elite in recent seasons.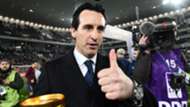 Emery has a track record of improving players. At PSG, the likes of Marquinhos and Presnel Kimpembe came on leaps and bounds under his tutelage, while youngsters like Timothy Weah have gone on record to thank the experienced Spaniard for integrating them into the first team. The coach will bring his own backroom staff with him including his trusty, vocal assistant Juan Carlos Carcedo, as well as a number of other figures who he worked with at Sevilla and PSG.
All signs point to Emery sticking with his favoured 4-2-3-1 formation for next season. He will ensure that Mesut Ozil remains as the traditional 'No.10' while Aaron Ramsey will also be in his plans for the upcoming campaign. Goal understands that Emery spoke with former Arsenal boss Wenger before taking the job and the Frenchman advised him on areas where the team needs strengthening, with defence unsurprisingly the first recommendation made by the 68-year-old.
Sevilla was the club where Emery made his name as one of Europe's top tacticians and his working relationship with the Andalusian side's sporting director Monchi turned them into a technically astute powerhouse. He now faces the task of working alongside Mislintat and Sanllehi, both of whom were involved in the process to find the next Arsenal manager.
Mislintat, in particular, will be a key ally of Emery's. The former famously fell out with ex-Borussia Dortmund coach Thomas Tuchel - a key reason for his eventual departure to Arsenal last year - and the German has already left his mark on the Gunners' transfer dealings with Pierre-Emerick Aubameyang, Henrikh Mkhitaryan and Konstantinos Mavropanos all arriving under Mislintat's watch.
Similarly, Sanllehi's head of football relations role can help Arsenal close deals that they previously struggled to finalise. The Spaniard has a wealth of experience in European football and a large contacts book which has already seen him raid former side Barcelona for a highly-rated La Masia prospect in Joel Lopez.
The beginning of a new era for Arsenal begins today. A new philosophy, a new face, new insight, new intensity and new players. Emery's decision to take the job is a brave one when you consider the pressure placed upon him to win silverware but, as a club, Arsenal are well placed to succeed with a new management structure which is designed to get the best out of a team full of potential.