Gaming
David Beckham in PES 2018: All you need to know
Pro Evolution Soccer fans have been given a treat by the game's producers after David Beckham was announced as a new addition to PES 2018.
Konami revealed on Friday that they had agreed a long-term deal with the former Real Madrid and Manchester United star that will see him feature exclusively in their new game.
"It is a great honour to join the roster of legends that work with KONAMI as PES Ambassadors," Beckham said. "I look forward to seeing my career represented in this fantastic game, and working with such a talented team of people who obviously love football as much as I do."
With the game set to be released on September 12 in the United States and September 14 in Europe and Asia, Goal takes a look at David Beckham in PES 2018.
---
HOW TO PLAY WITH BECKHAM IN PES 2018
---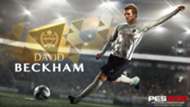 Beckham will be a 'Legend' in PES 2018 and gamers will be able to play as the former England captain in the myClub mode, which allows the creation of a unique team in a similar fashion to EA Sports' FIFA Ultimate Team.
'Golden Balls' is not the only 'Legend' in the new game, however, with Diego Maradona also set to feature, as well as, somewhat bizarrely, the recently retired world-record sprinter Usain Bolt.
---
WHAT ARE BECKHAM'S STATS IN PES 2018?
---
We do not know what Beckham's stats will be like in PES 2018, but, considering his status as a 'Legend' they are bound to be respectable enough.
In previous editions of the Pro Evolution Soccer series, Beckham's strong points were his famous free kicks, long passing accuracy and his stamina.
Indeed, the trailer teasing the former midfielder in PES 2018, he is seen lining up and taking a free kick in his inimitable style, so it is fair to assume he will be one of the best dead-ball experts in the game.
---
WHAT WILL BECKHAM LOOK LIKE IN PES 2018?
---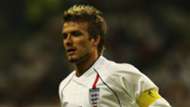 In the teaser material that has been released, the PES 2018 'Legend' version of Beckham appears to be modelled on how the player looked during the 2002 World Cup.
The virtual Beckham is sporting a blonde mohawk and a chin-strap beard, which was the style fashioned by the player during the tournament in Japan and Korea when he was aged 27.
Even the most critical of observers will surely applaud the game's rendering of the player's face, which is incredibly close to the reality.