Manchester City
'Red cards for doing nothing' - De Bruyne blasts Sterling celebration dismissal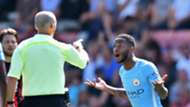 Kevin De Bruyne has added his voice to those condemning Raheem Sterling's sending off for celebrating, with the Manchester City midfielder claiming red cards are now brandished "for doing nothing".
The England international was dismissed in the dying seconds of a Premier League clash with Bournemouth on Saturday after snatching a late winner.
City to beat Liverpool O2.5 goals 6/4
In the heat of the moment, Sterling headed towards the away section of supporters to share the emotion of sealing three dramatic points.
He was, however, to be shown a second yellow card for entering the crowd and will now miss a reunion with former club Liverpool as he serves a suspension after the international break.
De Bruyne is among those to have been left baffled by the decision, with the Belgian midfielder saying of the incident: "I was just looking and I saw the ball flying in and you know that you are going to win the game at that point.
"These are the moments that are very important and I think for us and for the fans it was a good time.
"To be fair I don't think he deserves a yellow. He stays on the pitch and it's the fans who are coming on to the pitch. I don't think it is his fault.
"I would understand if he jumps into the stands but he stayed on the pitch and people came to him. It wasn't his fault but obviously you get yellow cards for doing nothing and red cards for doing nothing."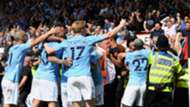 Despite being left frustrated by the actions of the match officials at the Vitality Stadium, De Bruyne was delighted to give City's travelling support something to shout about.
He added: "I think the fans can see that we will try anything to win the game and the extra two points meant a lot.
"Obviously, we drew against Everton when we should have won and now this game was closer to a draw than something else but it doesn't matter what way you play, you need to get the win.
"Everybody now is very fresh and everybody is prepared to be close and I think in the season when more games have been played, they will become more open because of fatigue. I don't think anybody is feeling tired now."
Victory over the Cherries means City have taken seven points from their three games so far to sit fourth in the early Premier League table.