Liverpool
Milner: Salah is ridiculous, I'm tripping over his trophies!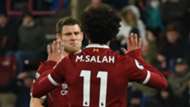 James Milner says Mohamed Salah's stunning efforts for Liverpool this season have left his team-mates tripping over awards in the dressing room.
Few could have predicted that the Egyptian forward would make such an immediate impact upon returning to English football in the summer of 2017.
Having previously flopped at Chelsea, the 25-year-old has been a revelation at Anfield to send records tumbling and complete a clean sweep of top awards.
A 44-goal star has landed the Premier League Golden Boot, PFA Player of the Year award, FWA Footballer of the Year prize, Liverpool's Player of the Year gong, been named African Footballer of the Year, Premier League Player of the Month three times and the English top-flight Player of the Year.
Milner is delighted to see praise raining down on a deserving colleague, but told The Times on Salah's remarkable achievements: "Mo's ridiculous.
"In the dressing room the other day, by his spot there were seven trophies on the floor, all his player of the months from someone. 
"I'm stepping over them in my flip-flops. 'Mo, will you move this! I can't get to my spot. Do us a favour, will you!'"
Salah has been the star of the show for Liverpool this season, but he has been ably assisted by fellow frontmen Roberto Firmino and Sadio Mane – with that deadly trio now having the Champions League crown in their sights.
Milner added ahead of a meeting with Real Madrid in Kiev: "There are times in a defensive situation when we've managed to nick it, play a pass into one of the three, then you're just running up behind them, watching the three of them do, like, three one-twos and stick it in the top bin is amazing, and I think, 'Nice!'"
Liverpool will be hoping for more of the same against Madrid, with much being made of Salah's impending battle with Portuguese superstar Cristiano Ronaldo.
He has already drawn comparisons to the five-time Ballon d'Or winner and Barcelona talisman Lionel Messi.
Milner can see why, with those claiming that Salah can be stopped by forcing him off a favoured left foot seemingly blind to the talent in front of them.
He said: "It's easy to say that, but actually stopping it... You can say that about Messi for 15 years that his right foot is not as great as his left.
"There's a great example of me when I went to press him [Messi at Camp Nou in 2015], got him by the touchline, he nicks it through my legs and he's gone, incredible. The best players find a way."