Neymar
French players' association backs Neymar in Barcelona lawsuit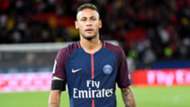 The National Union of Professional Footballers (UNFP) in France has backed Neymar in his dispute with Barcelona, the organisation announced Wednesday.
UNFP posted a statement of support via a tweet which linked to a full statement of support for the Brazil international, which also called Barcelona "spiteful" and "petty".
Following Neymar's €222 million transfer from Barcelona to PSG, the Catalan club have decided to sue Neymar for €8.5m for a breach of contract, announcing the decision Tuesday.
On Wednesday, Neymar counter-sued Barca for failure to pay a €26m unpaid bonus.
@UNFP soutient sans retenue @neymarjr, qui contre-attaque après que @FCBarcelona lui réclame 8,5 M d'euros.
https://t.co/2wrfGuN8kS pic.twitter.com/ySx5V1dUVr

— UNFP (@UNFP) August 23, 2017
The statement titled "UNFP supports Neymar without reservation" reads: "The UNFP fully supports the Brazilian player and would not hesitate to promulgate even some advice if the new Parisian asked them, while his former club, which we had never known as spiteful and petty, has filed a complaint against him and would claim at least 8.5 million euros, a few days after cashing a check for ... 222 million - euros!"
It also says Barcelona must know "how to lose" and requests the club allow Neymar to express himself as he did in the third week of Ligue 1, rather than "send him to court in a vile vengeance". 
Despite the bad blood between the player and his former club, Neymar does not seem to have missed a beat on the field. He has already scored three goals and added three assists in his first two appearances for PSG, both victories for the club.
Off the field, Neymar also seems to have no ill-will toward or from his former team-mates, as they posted photos of get-together on Instagram, during which Neymar and Messi poked fun at Gerard Pique over his infamous "He stays" tweet.