Cristiano Ronaldo
Cristiano Ronaldo's record vs Tottenham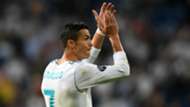 Cristiano Ronaldo has an opportunity to extend his stunning unbeaten record against Tottenham on Tuesday evening, with the Premier League side travelling to the Spanish capital to take on Real Madrid in the Champions League.
The former Manchester United winger has played against Spurs on a total of 13 times between the Premier League and Champions League, with 11 of those coming in domestic encounters whilst on the books of the Old Trafford club.
Ronaldo 15/8 first scorer v Spurs
From those games with United, Ronaldo won seven and drew four, and scored a total of four goals from 32 shots.
Ronaldo also completed 71 dribbles during those appearances, creating 12 chances for his United colleagues, while claiming three assists.
The 32-year-old has played against Spurs just twice with Real, winning on both occasions. 
The first was a thumping 4-0 quarter-final victory in 2011, in which Ronaldo scored the fourth and final goal following two strikes from Emmanuel Adebayor, and one from Angel Di Maria. 
In the second leg of the tie, Ronaldo struck the only goal of the tie to fire Los Blancos into the final of the competition before being replaced by Kaka in the second half.
Ronaldo was also famously part of the United team which narrowly beat Tottenham 4-1 on penalties in the 2009 Carling Cup final, with the Portuguese converting his spot-kick during the shootout.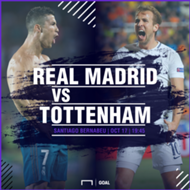 "It was only a matter of time," Real team-mate Isco said of Ronaldo's strike against Getafe, his first of the Liga campaign having been previously suspended for a push on an official. "He is a killer. It's true he hadn't scored many goals in the league so far this season but in the Champions League he has. It is very good for us that he is off the mark in the league because we need him."
Real and Spurs are currently locked at the top of Group H on six points and both look good for a pass through to the knockout rounds.
While Tuesday evening's tie in Madrid may not end up having a direct impact on either side's progression, a victory would make the task at hand considerably easier and Ronaldo is likely to play a major part in any Real success.