Calcutta Premier Division A
CFL 2018: East Bengal's Subhash Bhowmick - I don't care about fan protests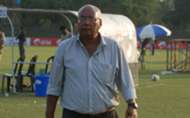 Eight-time consecutive Calcutta Football League 'Premier Divison 'A' champions
East Bengal
dropped their first points of the 2018 season against Calcutta Customs on Friday.
With the season opener being a washout, the Red and Golds won their first game of the season 2-0 against West Bengal Police earlier this week but were held to a goalless stalemate against Customs at their own home ground.
"I agree we lack goal scorers. Gagandeep Bali has recently joined. He is new to this club. The other striker we have is Joby Justin, who is unfortunately ill. We have to face these problems," Technical Director Subhash Bhowmick commented right after the game.
He likened the situation to his earlier stint with the club as a coach, in the successful 2002-03 season when they drew the second game of the CFL 2-2 to SAIL after winning against Calcutta Port Trust 2-0 in their opener.
"In 2002 I had faced a similar situation when East Bengal drew against SAIL in the second match of the CFL. I went on to win the CFL and the NFL (National Football League) with East Bengal at the end of the season."
After an insipid first-half display on Friday, Bhowmick was compelled to make a couple of changes post the break. To alter proceedings, he brought in Syrian playmaker Mahmoud Al Amna and Brandon Vanlalremdika, but to no avail.
"The situation was such I had to bring in Amna. All my midfielders are either young or new to this team so we needed an experienced player like Amna to bail us out. Unfortunately, we didn't score. But I will say this that we played brilliant football in the second half after a bad first half.
"I am still saying that I don't want Amna to play CFL matches. We need him for bigger occasions. We are going through a process," he added.
Right after the final whistle, a majority of the emotional East Bengal supporters erupted against Bhowmick from the stands demanding his resignation. "Go back Subhash", "Go back Bhowmick" chants were heard at the club ground, with a section of the supporters rallying against the ASEAN Cup-winning coach. 
"I don't care about what the supporters are saying. This is not new. I just want to tell them even after winning the CFL for the last eight years, we have not broken major ground," he retorted, hinting that the ultimate aim is to win the I-League, rather than utilising all his resources in the local league.

Calcutta Customs coach Rajib Dey pointed fingers at referee Biplab Poddar for allegedly granting extra time for the Kolkata giants to make a comeback after injury time ran out at the end of either half.

"It was a disgrace what the referee did today. Eight minutes of injury time was shocking! There were no major injuries. I just want to say that if this continues the smaller teams will lose motivation to play the league," he commented.