Transfers
Barcelona offered Vinicius Junior more money than Real Madrid - agent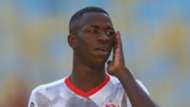 Vinicius Junior opted to join Real Madrid instead of Barcelona because he "preferred their project more" even though the latter offered him more money, his agent says.
David Luiz 'took a risk and a pay cut' to return to Chelsea
Madrid secured the signing of the 16-year-old from Flamengo after they met his €45 million release clause , although he will remain in Brazil until July 2018.
After agreeing the deal, the attacker stated he "did not decide anything", but his agent, Frederico Pena, said he was persuaded by the sporting objectives in the Spanish capital. 
"Barcelona offered more money than Madrid, the player would've earned more" he told  Golboesport.
"But we arrived at an agreement with Madrid because the player preferred their project more. Some people believe that he chose Madrid for money, but they are wrong.
"Vinicius only concentrated on the sporting aspect and Real Madrid's position in the negotiations was better in that regard."
The success of current Madrid stars who signed for the club at a young age also helped persuade him.
"Raphael Varane, Sergio Ramos, Casemiro, Marco Asensio, Marcelo all arrived before the age of 22 and they're all very important players in the first team now.
"Barcelona sign players who already know the team plays, except in Neymar's case, so it is more difficult as can be seen with Arda.
"Madrid can sign players like Mbappe. We've got to see the player's development this year and what Madrid will need next summer. Then we'll know when he goes there.
"Vinicius will go to Madrid with his whole family. Such a young lad will need to be surrounded by his own."