AFF Championship
Thai encounter part of big learning curve for Irfan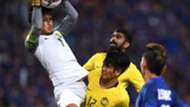 A semi-final in a very noisy surrounding filled with passionate fans in an away ground can be a very daunting prospect for any player. Let alone one who is only 23 years old and not a regular starter in the team but all that was part of the challenge that Irfan Zakaria faced when he was unexpectedly called into action at Rajamangala Stadium.
As usual the experienced Aidil Zafuan was selected to partner Shahrul Saad at the heart of Malaysia's defence in the second leg but the Johor Darul Ta'zim pulled a hamstring after only 15 minutes played and Irfan was summoned from the bench.
Any nerves that Irfan felt replacing Aidil would have increased several fold when after just six minutes, Malaysia conceded the opening goal of the match. For the rest of the 75 minutes, Irfan would compete as best he could but he also committed several unforced errors that almost cost the team.
"It was not easy for me to play in this game. We all know that we needed either a draw or a win against Thailand. Only God knows how I felt and the nervous state I was in. Finally I got a chance to play and even though I made a couple of mistakes but that is all part of the learning process for me."
"All the players were completely deflated when the penalty was given because that determined if we reach the final or not. But it didn't go in and all our hard work and patience paid off," Irfan told Goal.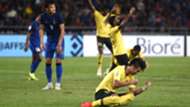 One kick, one situation to decide the fate of the whole team and country is what football is all about and luckily for Malaysia, the pressure got to Adisak Kraisorn and he missed the decisive spot kick.
Now Vietnam lie await in the final and with the first leg scheduled for December 11, Tan Cheng Hoe has very little time to allow for Aidil's recovery. Even the lowest grade of hamstring injury requires at least two weeks of recovery which could mean an open spot for Irfan to challenge for.
Adam Nor Azlin is the other probable candidate but unlike Irfan who have featured in the opening match against Cambodia as a substitute, the former has yet to taste a single minute of action in this 2018 AFF Suzuki Cup. 
"It is now a chance for me as well as the other defenders if Aidil doesn't recover in time. We have to give it our all during training and whoever is selected by the coach, I'm sure the player will give 120% for the match," added Irfan.
Anticipation is the key as well as preparation. With a few more days to go before the first whistle in the first leg of the final, Irfan will have enough time to prepare himself mentally and not be overawed by the occasion if he gets selected to replace Aidil in four days time.
Follow Goal Malaysia on Instagram