African All Stars
Nigeria draw Sierra Leone, Ghana face Gambia in Wafu Cup draw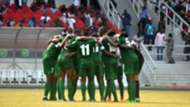 Nigeria against Sierra Leone is the pick of the ties to emerge from Thursday's West African Football Union Cup draw in Accra.
Hosts Ghana, meanwhile, will face Gambia in a daunting tie for a quarter-final place, while Mali will try Mauritania for size.
Cote d'Ivoire meet Togo, while Benin Republic will lock horns with Cape Verde. Also, Senegal will challenge Liberia for a place in the next round.
Ghana, Gambia, Nigeria, Sierra Leone, Mali , Mauritania, Guinea and  Guinea Bissau make up Group A, with Group B comprising of Senegal, Liberia, Burkina Faso, Niger Republic, Cote d'Ivoire, Togo, Benin Republic and Cape Verde.
The regional competition organised for home-based professionals will hold between September 9-24, 2016 in a format that will see teams play single games before proceeding to the quarter finals.
Winners of the round robin stage will form Group A & B with the top two teams from each group progressing to the semi-final.
#Wafu Cup of Nations draw:
The winners of the round robin stage will form Gp A & B. Top two teams from the two group progress to the semis pic.twitter.com/c7ws9WL0Mu

— Ghana FA (@ghanafaofficial) July 27, 2017
GROUP A
Ghana vs. The Gambia
Nigeria vs Sierra Leone
Mali vs Mauritania
Guinea vs Guinea Bissau 
GROUP B
Senegal vs Liberia
Burkina Faso vs Niger Republic
Cote d'Ivoire vs Togo
Benin Republic vs Cape Verde