Opinion
Jordi Roura: Why La Masia remains the best in the world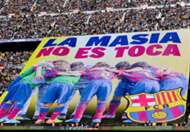 ---
SPECIAL REPORT
---
There is no doubt that La Masia (Barcelona youth academy) has provided the base for perhaps the finest football team in history thanks to their technical excellence.
Since its inception in 1902, numerous players have made their way up through the ranks and turned out for Barca's first team or have gone on to showcase their talents at leading European sides.
January 2011 represents a crowning moment in the club's history with Lionel Messi, Andres Iniesta and Xavi Hernandez, all who learned their trade at La Masia, took their places on the 2010 Ballon d'Or podium, a feat never previously achieved by any other academy.
Head of Barcelona grassroots football, Jordi Roura tells Goal what makes La Masia stand out as one of the leading football academies in the world.
According to him, the key to their success was not only passing but a pressing plan which saw the Blaugrana regaining the ball almost as soon as they had lost it.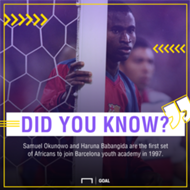 "From the senior team to the junior levels, it is all the same style of play," Roura told Goal.

"Our idea is to dominate the game by holding the ball both from offensive and defensive positions because we have a clear idea of how to play.
"Also, finding talents and grooming them with our methodology is another important aspect of our philosophy."

In 2009, Messi became the first La Masia product to win the Ballon d'Or. And in 2010, the Spanish national team lifted their first Fifa World Cup with a starting line-up featuring no less than six players (Pique, Iniesta, Xavi, Busquets, Pedro and Puyol ) who took their first steps in the game at La Masia.