WTF
EXTRA TIME: Not a perfectly happy birthday for Andile Jali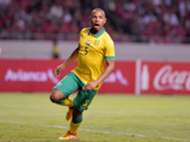 The Bafana Bafana player is thanking fans on Twitter for all their wishes, but there's a story doing the rounds in SA celeb news that Jali's in a rocky relationship with his girlfriend Nonhle Ndala.
Either way Jali is strong enough to get back on his feet in his personal life and for KV Oostende. The midfielder missed out on the teamsheet this weekend and needs to fight his way back in.
Here's all the talk and gentler wishes from social media.
Andile Jali and Nonhle Ndala's relationship on the rocks ... https://t.co/2vqPC2jMjZ

— Mr B.M. Mseleku (@Mthoko_Mseleku) April 10, 2017
Andile Jali and Nonhle Ndala's relationship on the rocks https://t.co/2122HdvAmh

— mickie james (@keshasmith6) April 10, 2017
ANDILE JALI'S 'LOVE TROUBLES!'https://t.co/2vrWhzVIsO https://t.co/pkRxo1zYHG

— Sunday Sun (@SundaySunSA) April 9, 2017
Andile Jali did not make the final 18 men squad for @kvoostende 's encounter last night. He's had 7 starts this entire season. pic.twitter.com/ATXdaJ3FXM

— Diski99 (@Diski99_SA) April 8, 2017
@andilejali870. Happy b day bucannee!!! pic.twitter.com/cXpV20pAcr

— twana bucannee (@TwanaBucannee) April 10, 2017
Happy birthday to former Bucs midfielder @andilejali870 #OnceAlways #OPFCSF https://t.co/8CCNh5B3Er

— Orlando Pirates FC (@PiratesForum) April 10, 2017
Wishing football client @andilejali870 a very Happy Birthday (Photo Credit: @Gallo_Sport) pic.twitter.com/O5gYMTNHDO

— Prosport Int (@ProsportInt) April 10, 2017
Thank you to everyone 

— aj15jali (@andilejali870) April 10, 2017
Happy birthday to the fearless LionKing,
@andilejali870 Hv a great day Mhlekazi and StayBlessed #oncealways pic.twitter.com/R2UFLnYPE2

— BtBlessers.. (@shemeni_) April 10, 2017