Gianluigi Buffon
Buffon would have no problem leaving Juventus after 17 years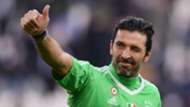 Gianluigi Buffon would have no problem leaving Juventus if he is forced to prolong his playing career away from the Serie A champions.
The veteran goalkeeper was expected to hang up his gloves at the end of the 2017-18 campaign, having achieved just about everything there is at the very highest level.
Buffon is, however, having second thoughts and is considering playing – both domestically and internationally with Italy – at the age of 40.
If he is to delay retirement, then it could be that a man who has spent 17 years as an iconic presence in Turin is forced to head elsewhere – with his current contract coming to an end.
Buffon says he would be willing to take in a change of scenery, telling Canale 5: "It won't present a problem.
"It's happened twice before when I went off course and no longer felt that I wanted to play for the club.
"Fortunately, things changed and I stayed in Turin."
If Buffon is to leave Juve, then he will depart with many happy memories, with the first of six title successes considered to be his favourite.
He will be hoping to add to that medal haul this season, with discussions on his future planned for the summer.
Buffon added: "I cannot create false expectations or tell lies.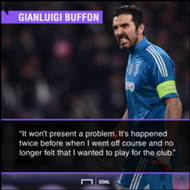 "The truth is that there's a gentleman's agreement with the president [Andrea Agnelli] and before the end of the season I've to meet with him.
"When that happens we'll take stock of the situation and make a definitive choice. A player would never stop playing."
Buffon went on to address the issue of Italy's failure to reach the 2018 World Cup and questions regarding his ongoing presence with the Azzurri.
He said: "The World Cup elimination? Those were difficult days, I wanted to end my career with the World Cup.
"It seemed the perfect way, it would have been the perfect final catwalk. Unfortunately that's not how it went, but I also think that at 40 I have to make certain statements, because it's right to take a step back.
"It's also a matter of sensitivity because I've always been a strong point for my teams, and I would never want to become a burden.
"At 40 you don't have to say it anymore, but it's up to others."