NPFL
Musa: Kano Pillars players need a break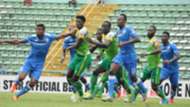 Kano Pillars coach Ibrahim Musa admits that his players need a break before the start of the 2017-18 season after engaging in a lot of pre-season activities.
Sai Masu Gida have been involved in three tournaments in less than a month and after the conclusion of the LMC Super 6, Musa has clamoured for a needed break to be given to his wards.
"I only want to praise my players for a job well done. It is not easy to play so many matches without adequate rest. We travelled to Ilorin and immediately we came back to Kano we have been involved in additional two tournaments. We have won two out of the three and I must say that we have tried our best," Musa told Goal.
"My players need rest now to allow them to recover from all the matches we have played. If I have to count, we played over 20 friendly matches. I believe that a break will do my players lots of good at this point in time.
"We will go back to look at what we are yet to do and try to correct them before the season starts. We didn't perform too badly at all because the only game we have lost was a penalty shootout," he added.
The gaffer also praised his players for their role in winning two out of the three pre-season tournaments they have taken part in.
"I will say I am impressed with the way we have approached the pre-season games. We have shown that we can hold our own against top teams. We won't relent with the remaining part of our preparations.
"I have told them that they still have a lot to learn and immediately a break is approved for them I will enjoin them to return back to camp early so that we can finish up what we started."
Pillars will travel to Katsina to face Katsina United in the first game of the season on January 14.