Real Madrid
Courtois denies anger at Real Madrid links to Conte and Mourinho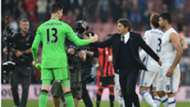 Thibaut Courtois has emphatically denied reports that he was dreading the potential hiring of Antonio Conte or Jose Mourinho at Real Madrid.
Courtois played under both managers during his time in Chelsea, and the two have been linked to the Real Madrid job as potential replacements for under-fire Julen Lopetegui.
A report from El Pais stated that the Belgian goalkeeper told teammates that he "cannot believe" that the two were being considered while turning pale at the suggestion.
Courtois reportedly added that he left Chelsea "to not have to go through something like that again", but the Real Madrid goalkeeper took to Twitter on Friday to deny those allegations.
Quiero desmentir rotundamente la información publicada hoy en el @elpais_deportes referente a mi persona. Incluye mentiras que me dañan como profesional y espero una rectificación meditando tomar acciones legales.

— Thibaut Courtois (@thibautcourtois) October 26, 2018
"I emphatically deny the information published today in @ elpais_deportes regarding me," Courtois said in a tweet.
"Included are lies that hurt me as a professional and I expect a retraction as I consider taking legal action."
Courtois won Premier League titles under both Conte and Mourinho, but returned to Madrid this summer in a move that brought him closer to his family.
Conte is currently out of a job after leaving Chelsea this summer, although the Italian's potential hiring by any club could impact his settlement payments from Chelsea.
Mourinho, meanwhile, is under fire as well following a difficult start to Manchester United's season.
The Portuguese recently ruled out a return to Real Madrid, a team he managed from 2010-13, while adding he hopes to stay at Manchester United long-term.
Real Madrid faces Barcelona in El Clasico this weekend, a match that could be decisive in Lopetegui's future.