World Cup
World Cup 2026: How would FIFA's 48-team proposals look today?
Whether you are for or against it, one thing is for sure - a 48-team World Cup is coming. Deal with it. Move on.
FIFA reveals 48-team World Cup plans
The ins and outs of the new competition - which will increase in size from 2026 onwards - are still being ironed out, but things moved a step closer on Thursday when FIFA revealed its proposals for how many teams will qualify from each region.
One of the main selling points to the various governing bodies was the increased opportunites a 48-team World Cup would offer to some smaller nations, and that is certainly evident by these new proposals.
Africa will now have nine guaranteed representatives at the tournament while Asia will have eight and Europe a massive 16.
CONCACAF and CONMEBOL have also seen their number of teams increased while Oceania will now have a guaranteed slot rather than having to go through a play-off as with the current system. The final two teams will be decided via a qualifying competition ahead of the tournament itself.
But how would a 48-team World Cup look if it kicked-off tomorrow? Though the various qualifying competitions tend to throw up their own quirks, Goal has taken a look at the current world rankings to find out which sides would be in the running right now to reach the finals...
---
CAF (Nine automatic slots)
---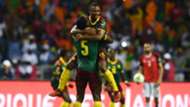 Perennial qualifiers Ghana, Ivory Coast, Nigeria and AFCON champions Cameroon would all be guaranteed slots under the new system while improving sides such as Burkina Faso and Democratic Reublic of Congo would stand a much better chance of making the cut.
QUALIFIERS: Egypt (Current ranking: 20), Senegal (28), Cameroon (32), Burkina Faso (36), Tunisia (37), Congo DR (38), Nigeria (41), Ghana (43), Ivory Coast (47)
---
 CONCACAF (Six automatic slots)
---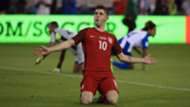 North American heavyweights Mexico and USA would likely be able to take it relatively easy in qualifying from now on, but for the likes of Panama and Haiti there is a real opportunity to make a name for themselves.
QUALIFIERS: Mexico (17), Costa Rica (19), USA (38), Panama (53), Honduras (65), Haiti (69)
---
CONMEBOL (Six automatic slots)
---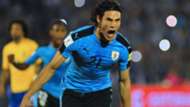 Given the strength in South American football at present and their current four automatic qualifiers and a play-off berth, there would unlikely be much change from those who we are used to seeing at summer finals.
QUALIFIERS: Argentina (1), Brazil (2), Chile (4), Colombia (7), Uruguay (9), Peru (18)
---
OFC (One automatic slot)
---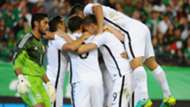 We will now be guaranteed to see a side from Oceania at the World Cup from 2026 onwards, with New Zealand likely to remain heavy favourites to claim the slot.
QUALIFIERS: New Zealand (112)
---
 AFC (Eight automatic slots)
---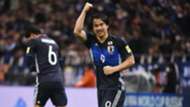 The likes of South Korea, Japan and Australia would likely become ever-presents when it comes to World Cups but there is also the strong chance of new names such as the UAE and 2022 hosts Qatar becoming better known to the wider footballing world.
QUALIFIERS: Iran (33), South Korea (40), Japan (51), Australia (53), Saudi Arabia (57), Uzbekistan (63), United Arab Emirates (68), Qatar (84)
---
 UEFA (16 automatic slots)
---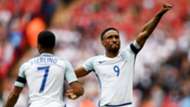 Much like with qualifying for the European Championships, it would take something special (ahem, Netherlands!) for any of Europe's established nations to now miss out on the world's biggest international tournament.
QUALIFIERS: Germany (3), Belgium (5), France (6), Portugal (8), Spain (10), Switzerland (11), Wales (=12), Poland (=12), England (14), Italy (15), Croatia (16), Netherlands (21), Iceland (23), Republic of Ireland (24), Slovakia (25), Turkey (26)