Arsenal
Why Ozil needs a manager like Mourinho... not Wenger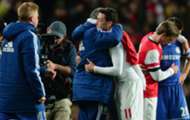 ---
COMMENT
---
There are big concerns at Arsenal, because Mesut Ozil is not playing as well as he can. Arsenal are failing to get the ball often enough to Ozil, or in good enough positions, during their most important matches and as a result the German playmaker is on the fringes. He appears to be a player out of form, out of confidence, and out of focus.
Wenger plays down Barcelona talk
Arsene Wenger has even gone so far as to say in front of the press that there was a gap between what Ozil can do and what he is doing. That kind of gentle rebuke is about as close to a rollicking that Wenger dishes out.
Fans, meanwhile, are frustrated with what appears to be indulgence on Wenger's part towards the £42.5 million playmaker in spite of his anaemic play. Ozil was afforded two weeks off around the turn of the year to cope with flu symptoms and he missed the FA Cup fifth round tie against Sutton United despite being fit. In the days between that match and Arsenal's next one, he was spotted in Istanbul with a former Miss Turkey, Amine Gusle, allegedly seeking out property in the Turkish capital.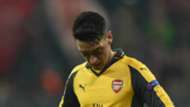 There have been reports, too, of discontent within certain sections of the Arsenal dressing room. The standoffish Ozil – it has been suggested – is afforded certain privileges such as not being substituted when things are going badly.
He and his personal team are known to have been stung by criticism of his performances by pundits and fans alike with his Dr Erkut Sogut agent even taking the unprecedented step of defending his client in public following the heavy Bayern Munich defeat in the Champions League last month.
Ozil reveals Mourinho bust-up: He called me a crybaby and a coward!
His current downturn in performance could very well be related to exhaustion. The numbers suggest Ozil is actually pulling his weight. He has covered more ground per 90 minutes in the Premier League in 2017 than fellow superstar Alexis Sanchez and defensive lynchpin Laurent Koscielny.
Ozil has certainly got a propensity to pick up minor knocks and ailments. Indeed he suffered another bout of flu this week placing his participation against Liverpool this weekend in jeopardy.
But whatever way you look at it, Wenger is not getting value for money from his record signing.
There is no question that Ozil respects Wenger – indeed the manager was one of the deciding factors in Ozil choosing Arsenal in the first place - and he is also known to be seeking clarity on Wenger's contract extension before committing any more of his own career to the club.
The wisdom of Ozil releasing his autobiography "The Magic of the Game" at a time like this should be questioned. Nonetheless the extracts published by German daily Bild contain some insightful revelations for these times.
There is no doubt that Ozil played better at Real Madrid, or more consistently at least, than he has done at Arsenal. He did so for Jose Mourinho and there is a suggestion from Ozil's writing that he requires a figure like Mourinho in order to give his best.
"You think two nice passes are enough", Mourinho shouts at Ozil during one half-time break. "You feel too classy to go into duels. You think you're that good that you can do it at 50 per cent."
"If you're that good, go play yourself", Ozil snaps back and pulling off his shirt. "Here you go, put it on."
"You're such a coward," says Mourinho, right up against his playmaker's face. "What do you want? Do you want to go hide under the nice warm shower? Do you want to do your hair? Do you want to be alone? Or do you want to prove to your team mates and the fans what you can do?"
"Go! Cry!", Mourinho continues. "You're such a baby. Go take a shower. We don't need you."
No one is going to confuse Mourinho for Wenger any time soon and it is hard to imagine the Frenchman being so insulting and confrontational with Ozil in the Arsenal dressing room. Instead it is accusations of privilege and indulgence that dog their relationship.
Spalletti wants team of Nainggolans
"I understood why Mourinho screamed at me like that in front of the other players," Ozil later writes. "Actually, it was quite easy to understand. He told me loud and clear: Mourinho never wanted me to rest! "That I get out of my comfort-zone on the pitch. He wanted to strengthen me. He wanted to push me so far that my development as a player was never going to stop.
"Looking back now, Mourinho was right. When I came to Madrid, I had this attitude that playing well was sufficient. I was satisfied too quickly. Mourinho drove that attitude out of me."
Ozil now needs to demonstrate that the fighting spirit conferred upon him by Mourinho still remains. And maybe that's one of the reasons behind Ozil's slowdown; he hasn't got a coach mean enough to challenge him.