Western Sydney Wanderers
Western Sydney Wanderers 'close down' active area in response to derby flares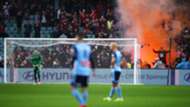 Western Sydney Wanderers management have decided to 'close down' their active support area for Sunday's match against Perth Glory, in response to the behaviour from their fans at Sunday's Sydney derby.
Two flares were lit in the first half in the Wanderers end at Allianz Stadium, with supporters also seen wearing controversial t-shirts criticising Football Federation Australia.
The Wanderers, who have only recently had a suspended points ban lifted for anti-social fan behaviour, released on statement on Monday, saying the club's active area at Spotless Stadium will be closed for their next A-League match against the Glory, but will be reopened  for their following match against Wellington on March 10.
Chief executive John Tsatsimas says the club will not condone any unacceptable conduct or the lighting of flares from its supporters, and threatened further closures of the active area if the anti-social behaviour continued.
"The Western Sydney Wanderers maintains its position that it will not accept offensive behaviour being displayed at its matches and also will not accept the illegal use of incendiary devices," Tsatsimas said in a statement.
"The Western Sydney Wanderers maintain that the majority of those members in the active area have been outstanding and supportive of the club and the team. Unfortunately a small group have made this action unavoidable. Investigation into those directly responsible for the lighting of flares is continuing. 
 
"Members who normally attend in the active area will be subject to alternative seating arrangements that will not be active on the day. Communication to those affected members will be conveyed later this week. 
"The active area will be reopened for the following match against Wellington Phoenix on 10 March 2018, however should there be any further breaches of the terms of admission then the club reserves the right to close down the active area for a further indefinite period."
UPDATE: The FFA have issued the Wanderers with a show cause notice for the flare incident.
While the FFA have said they will take into account the club's inital response to the incident, the Wanderers have until 5pm to respond to the governing body.
"We will continue to work with all our clubs, venues, security and the police authorities to maintain a safe and secure environment for the vast majority of football fans who attend matches and support their team in a peaceful and good natured way week in and week out," Head of the A-League Greg O'Rourke said.