Euro 2016
WATCH: All the UEFA EURO 2016 First-Timers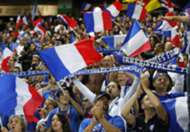 UEFA EURO 2016 has been a month of debuts. From Albania to Wales, it has already played host to the history-makers.
It all kicked off way back on June 10 in Paris when the hosts overcame a tough Romania side to ensure that the locals would celebrate a winning start.
For many, it was the opening night of the first major international tournament of their lifetimes. That was the case for Albania, who had defied the odds to secure qualification for the nation's maiden Euros campaign.
It ultimately ended at the group stage but they went out on a high after securing a famous 1-0 victory over Romania.
For others, like Turkey, it was a chance for redemption, to provide a new generation of players and fans the opportunity to see this great footballing nation return to the continent's top table.
They too ended the tournament well despite narrowly missing out on progression to the next round.
And to celebrate their first time as official UEFA EURO sponsors SOCAR brought a few fans along for the ride of their lives.
You could also make your debut at UEFA EURO 2016 by showing your passion in a photo on Twitter or Facebook using the hashtag #MakeYourDebut to win a pair of tickets. There are lots of different match tickets for grabs, so go and enter now!