Paul Pogba
VIDEO: Pogba dabs while scoring in match vs Cuadrado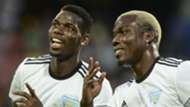 It's not a rare sight to see Paul Pogba dab, but doing it as the ball crosses the goal line is something new.
That's exactly what he did Saturday as Pogba and his friends topped host Juan Cuadrado and his own crew 6-3 in a friendly match in Medellin, Colombia. Proceeds from the game went to Cuadrado's foundation, which uses football, theatre and other activities to teach children leadership skills.
Pogba gives Mbappe wise advice
While it looked like Pogba may not find the back of the net, his chance to score came in the 82nd minute as he got around the goalkeeper and performed the famous dance move as the ball crossed the line and celebrated by doing another.
Dab goal  and great fun moments at Cuadrado x Pogba. @fundacionjuancuadrado @PogbaFoundation @Cuadrado Mathias Pogba. pic.twitter.com/tgOt0kFvT9

— Paul Pogba (@paulpogba) June 25, 2017
Among Pogba's teammates were his brother Mathias, who scored twice, Colombia international and Milan forward Carlos Bacca and Inter defender Jeison Murillo. Cuadrado was joined by Milan's Cristian Zapata, Watford's Camilo Zuniga and Udinese forward Duvan Zapata, who had a hat-trick in the defeat.