Neymar
VIDEO: Neymar and Gabriel Jesus turn on the style with fancy footwork and scissor kicks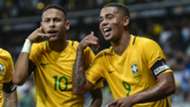 Barcelona and Manchester City forwards Neymar and Gabriel Jesus have been turning on the style at a five-a-side tournament in Brazil.
Both will soon be back in pre-season training with their respective clubs as the countdown to the 2017-18 campaign continues.
Neymar open to Man Utd...or Eibar!
Their creative talents will be embraced by Ernesto Valverde and Pep Guardiola, with Barca and City ready to embark on trophy quests once again.
For now, though, the duo have been busying themselves with some showboating at an amateur football event in Sao Paulo – with their fancy footwork providing plenty of entertainment.
Neymar invited Jesus to join him at the Neymar Jr's Five tournament.
The winning team at the event were given the opportunity to face a side including the two Brazilian superstars.
Unsurprisingly, both were on target in the final encounter, which saw Neymar's team prevail 3-2 over Romanian side Tao United.
Jesus wants Dani Alves at City
The Barcelona forward has been catching the eye in Europe for some time now and is delighted to see Jesus enjoying similar success after linking up with City in January.
Neymar is a big fan of his countryman, saying at the Sao Paulo event: "The kid is a crack, a phenomenon.
"As well as being at the highest level on the pitch, off the pitch he is exceptional, too."
Neymar and Jesus have graced the senior Brazil national side alongside each other and were part of the squad which secured a gold medal at the 2016 Olympics in Rio de Janeiro.